Natural areas in Ontario have been and continue to be subject to intense pressure from colonial activities.
From mining, logging, urban sprawl, agriculture and polluting industrial practices, in many places ecosystems have been lost or severely degraded. The Wilderness Committee works to identify and protect precious remaining wilderness to safeguard our future in the face of global climate and biodiversity crises.  We have a responsibility to ourselves, fellow living creatures and future generations to build better relationships with nature. We must balance economic development with ecological conservation — right now economic development weighs far too heavily on that scale. 
Ontario Nature
The province is home to multiple wilderness regions — from the mighty boreal and peatlands in the north to the mixed forests of the Great Lakes-St. Lawrence plains and the incredibly diverse Carolinian forests and grasslands of the southwest. Three primary watersheds in this province house more than a quarter of all wetlands in Canada and one-fifth of all the world's freshwater. These ecosystems provide life-sustaining services including wildlife habitat, air and water filtration and climate regulation.  
And of course, nature provides valuable opportunities for recreation, psychological, spiritual, health and social benefits for people. Healthy ecosystems are essential for Indigenous communities to practice traditional culture and treaty rights to hunt, fish and gather medicine, and Indigenous knowledge related to maintaining good relationships with the land is as well as fulfil responsibilities to caring for the land.
Join Us
Help protect the places we love and need. Check out the latest news and opportunities for action below.  
Support Us
Your much appreciated donation keeps this work going!
Volunteer
Get in on the action and make a difference!
Reports & Publications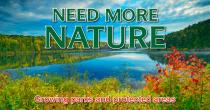 I sat on a shore in Ontario's Algonquin Provincial Park a year before the pandemic, marvelling as my son soloed the canoe beneath the burning glow of the setting sun. Watching kids grow is powerful and poignant. It's a privilege that I can offer my son the chance of growing up in intact nature, one afforded me in part because of the provincial parks set aside by past generations.