-
Event location
Centennial Square
United For Old-Growth: March and Rally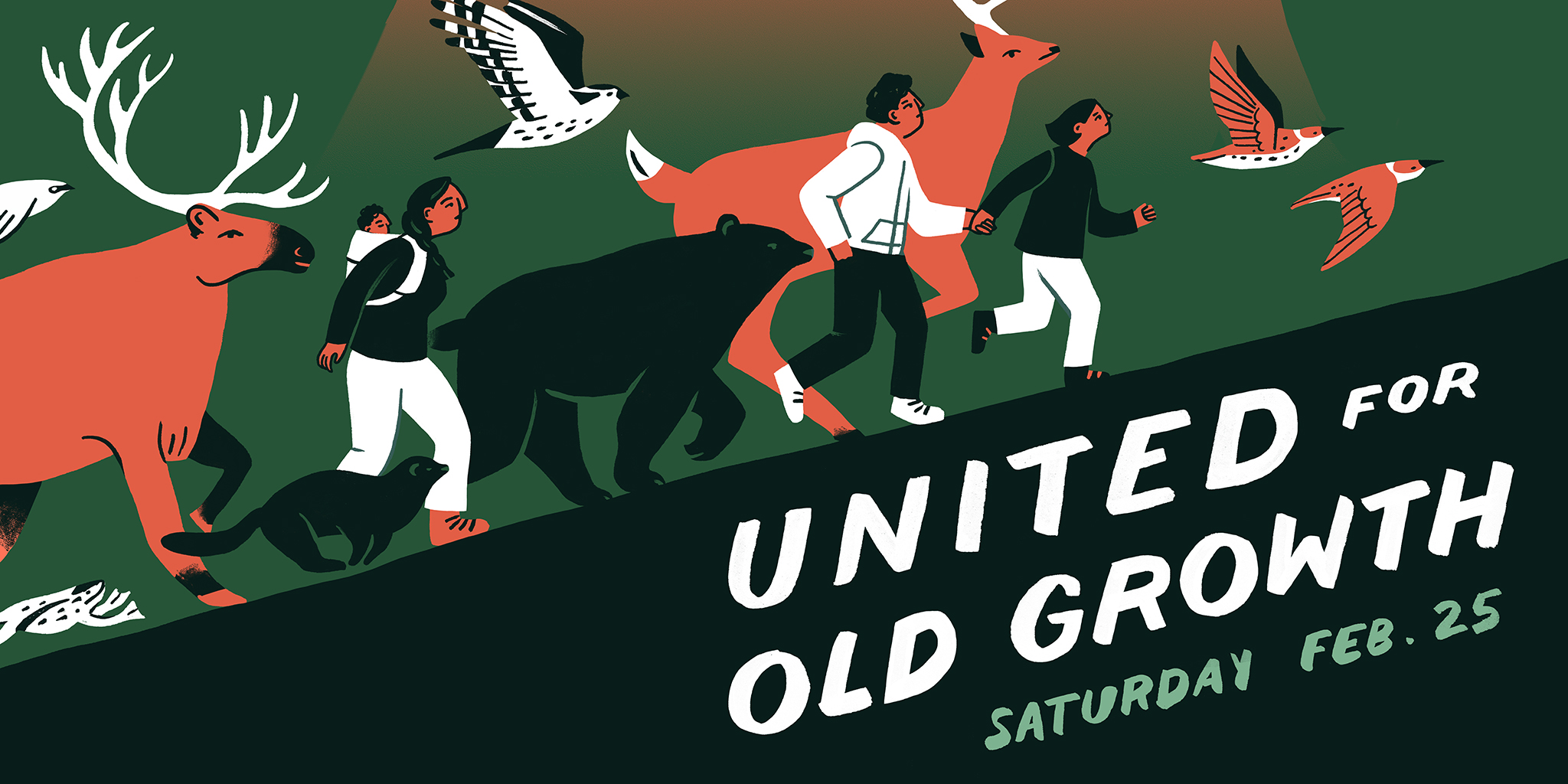 It has been two years since the BC NDP government promised to protect old-growth and a paradigm-shift in forest stewardship, but still the most at-risk forests continue to be logged. No more talk. The time for action is now.
Over 170 organizations across the education, environment, tourism and labour sectors have united around the Declaration for Old Growth. On February 25th, we are coming together in person to hold the BC government and new Premier accountable.
This peaceful march and rally will begin at Centennial Square (City Hall) in Victoria at noon, proceeding to the lawn of the Legislature for a rally featuring powerful speakers and performers from 1:30-3:30 — full line-up TBA.
If you are on Facebook, invite your network here.
If you are a part of an organization, union or business, sign on to the declaration here.
*The organizers acknowledge this event is being organized on the unceded lək̓ʷəŋən territories of the Songhees and Esquimalt Nations, and call on all participants to be respectful of this. All forests grow on the territories of Indigenous Peoples, and when we stand together for old-growth, we also stand for the return of land to Indigenous Peoples.*
---
More information:
The goal of this march and rally is to demonstrate the broad-based support for old-growth protection in BC. We're rallying around calls on the BC NDP government to keep its promises on old-growth, such as the June 2022 resolution by the Union of BC Indian Chiefs (view on page 38 here).
All are welcome, and we ask for mutual respect for all who come to stand together at this event. Participants are asked to show up in whatever way they feel called to, from their simple presence to more creative artistic expressions. We ask that space be provided for elders and those with mobility needs, and that provided chairs and spaces close to the stage be left to those who most need them.
This march and rally will be outdoors, but masks are always a good idea around lots of people — participants are encouraged to wear one.
---
Support
Donate:
Help make this happen (anything helps!): https://chuffed.org/project/help-protect-ancient-forests-bc
Volunteer:
Can you help make this the historic rally that our old growth forests need and deserve? To make the dream of old growth protection a reality in BC we need dozens of outreach volunteers for postering and other promotional activities ASAP. We also need marshals, set-up/take down, sound tech, and elder care volunteers for the day of the event.
If any of these volunteer roles sound like a good fit or, if you are unsure about these roles but want to lend a helping hand, get in touch today and our volunteer coordination crew will happily onboard you to the team :-) Email volunteerforoldgrowth@gmail.com with your name, phone number, and the volunteer role you're most interested in (if any).
For questions or more information, please contact: united4oldgrowth@gmail.com