-
What's up with old-growth in BC?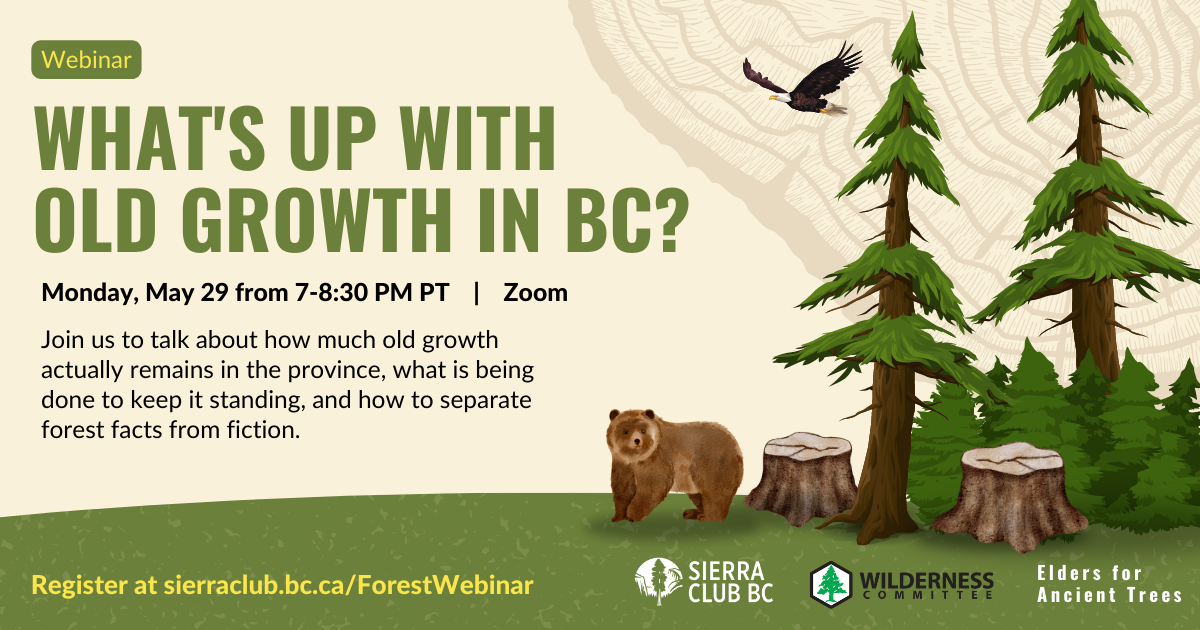 Join us for a webinar on Monday, May 29th at 7:00 pm PT where we'll talk about how much old-growth actually remains in the province, what is being done to keep it standing, and how to separate facts from government and corporate talking points.
This webinar will feature Wilderness Committee's national campaign director Torrance Coste, Sierra Club BC's campaigns director Shelley Luce, opening words from Mariah Charleson of the Hesquiaht Nation and will be moderated by Jackie Larkin from Elders for Ancient Trees.
It's been more than two and half years since the BC NDP government promised to implement the recommendations from its Old-Growth Strategic Review and protect old-growth forests. But despite some encouraging commitments and new policies, action to meaningfully limit the destruction of at-risk old-growth has been slow and insufficient. Since the provincial government promised a paradigm shift in forest management in BC, tens of thousands of hectares of the most endangered old-growth ecosystems have been destroyed, along with the life-giving biodiversity they harbour.
Intentions don't stop chainsaws. Big promises don't always lead to change on the ground, making it difficult to parse through the public relations spin and determine what's actually changed for old-growth, and what hasn't. We're here to help.
We'll talk about the reality of how much old-growth remains, how much is protected or deferred, how much is being cut in the meantime and crucially, what measures and financial supports exist for First Nations and other communities to enable protection for threatened forests.
This webinar will include a Q&A where our panelists will answer your forest-related questions and make sure you have up-to-date and factual messaging that you can use to take action for old-growth forests you love!
An informed, empowered public that knows the difference between fact and fiction on old-growth is the most powerful force to keep the province accountable. Join this conversation and help keep the pressure on the BC NDP!
Any questions? Please contact: em@wildernesscommittee.org
We would like to acknowledge with respect that the organizers will be hosting this virtual conversation from the traditional unceded territory of the Lekwungen speaking peoples of the Esquimalt and Songhees First Nations.