Civil liberties group files joint complaint against RCMP for raid of Argenta Face Forest protest area
Thursday, July 21, 2022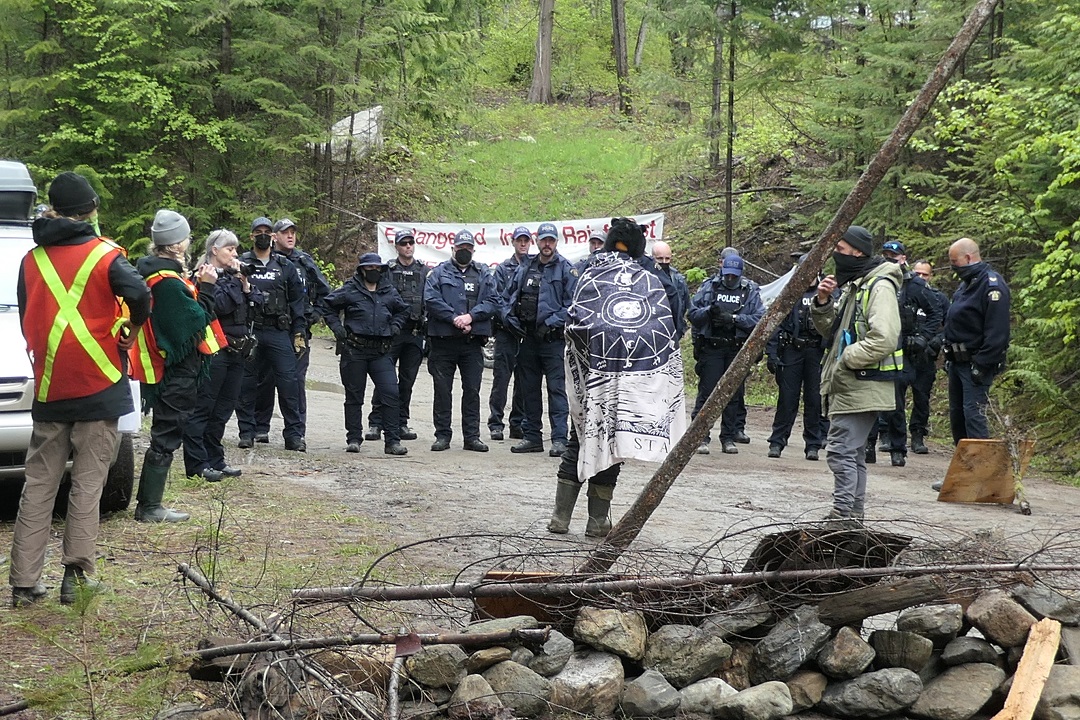 ARGENTA, BC/ SINIXT AND KTUNAXA TERRITORY – The BC Civil Liberties Association (BCCLA), the Wilderness Committee and five other groups have submitted a joint policy complaint against the RMCP's Community-Industry Response Group (C-IRG) for alleged egregious behaviour and unlawful arrests during the May 17, 2022 raid of a protest area at Argenta-Johnson's Landing.
The complaint details that the C-IRG unit raided a protest camp and soft blockade known as "Grouse Camp" by establishing two exclusion zones followed by approximately 18 arrests, including gratuitous aggression, of those allegedly in contempt of an August 2019 injunction known as the "2019 Salisbury Injunction." The protest camp was set up three weeks prior by Last Stand West Kootenay with the support of local Indigenous group Autonomous Sinixt in opposition of logging in the area by Cooper Creek Cedar Ltd.. 
"Out of fear of being unlawfully arrested and possibly having my photographic equipment and other gear confiscated by the RCMP, I have avoided the recently logged area on the Argenta Face and have not been able to collect the full scope of images and on-the-ground information that I am lawfully entitled to do," said Joe Foy, Wilderness Committee's Protected Areas Campaigner. 
Most of the arrestees associated with the campaign to protect the area located between Kootenay Lake and the Purcell Wilderness Conservancy from industrial harvesting claim they were standing off to the side of the road at the time of arrest. Written statements submitted in support of the policy complaint attest to arbitrary arrests and detentions, and the C-IRG unit refusing to allow many individuals to leave the Grouse Camp site without being arrested, despite these individuals attesting that they did not breach the 2019 Salisbury Injunction.
Lawyer Noah Ross filed the complaint with the chairperson of the Civilian Review and Complaints Commission for the RCMP in Ottawa, on behalf of the Argenta arrestees.
MEDIA STATEMENTS:
Joe Foy, Protected Areas Campaigner, The Wilderness Committee: "The Wilderness Committee has co-signed this complaint because our environmental organization is working within the law to do everything we can do to help stop the logging on the Argenta Face and see this area protected. However, out of fear of being unlawfully arrested and possibly having my photographic equipment and other gear confiscated by the RCMP I have avoided the recently logged area on the Argenta Face and have not been able to collect the full scope of images and on-the-ground information that I am lawfully entitled to do. I have in fact been self-restricting my actions and consequently self-censoring my work out of fear of facing unlawful actions by the RCMP."
Meghan McDermott, Policy Director, BC Civil Liberties Association: "Effective oversight of the RCMP and its Community Industry Response Group is desperately needed to safeguard our rights to freedoms of expression, association, and assembly to engage in protest and dissent.  We are deeply disturbed by this unit's oppressive actions on May 17 and call upon the Civilian Review and Complaints Commission to urgently investigate our complaint and make their findings public."
Noah Ross, legal counsel for complainants, "We have filed this complaint to hold the C-IRG Unit of the RCMP accountable for their conduct at Argenta on May 17. The C-IRG appears to have made a series of unlawful arrests and implemented an overbroad exclusion zone, resulting in substantial breaches of constitutional rights, including freedom of expression and freedom against arbitrary arrest and detention."
Jordan Miguel Pastor, Last Stand West Kootenay: "The C-IRG have a history of denying court orders, making unlawful arrests, restricting freedom of the press, and abusing their power. What happened in Argenta is a sustained continuation of the actions of an unrestricted and uncontrolled unit that brings the court's reputation into disregard."
Gail Davidson, Director, Lawyers' Rights Watch Canada: "The RCMP's duty is to protect not criminalize, the democratic right to participate in public affairs through peaceful protests to oppose potentially harmful government decisions and corporate activities. Prophylactic arrests to prevent inconvenience are a grave violation of essential rights—to liberty, expression, public debate, assembly and participation in public affairs and human rights advocacy—that must be censured and prevented."
Gary Diers, Mt. Willet Wilderness Forever: "The RCMP's C-IRG unit displayed an outrageous and unnecessary show of force in our community by indiscriminately arresting everyone in the vicinity of the logging protest.  This event was traumatic for our community, particularly for those protesting, having always believed that our right to peacefully protest in Canada should and would be upheld by the police rather than quashed by them."
Andrea Mann, Coordinator, From the Heart Kootenays: "From the Heart Kootenays supports the intention of those protecting the Argenta Johnson Landing face, and is against the wrongful arrests and C-IRG abuse of such Charter-protected rights as freedom of movement and peaceful assembly. We are hopeful that an investigation will be undertaken, and furthermore, that the RCMP will be motivated to align their conduct going forward within public expectations for policing to protect citizen rights rather than enforcing corporate interests."
Fancy meeting you here at the end of this article! Care to hang out together for a few more sentences?
The campaign you just read about is one of about 20 we're actively working on at any given time. And the person who wrote this article is the same campaigner who's asking you to take action, who's calling on our legislators to make changes and who's in the field to bring you photos, videos and stories documenting this issue.
Did you notice how we're a bit distinct, that we're not afraid to call out the industries or governments that threaten what's wild? Unlike other groups, we're almost 100 per cent* "people powered." Individuals like you who care give what they can, when they can. No corporate or government funding restricts our strategies, our actions or our voice. That's how we stay a lean, nimble and unequivocally relentless voice for wilderness, wildlife and the climate. That's why we'd love it if you'd consider joining us by making a monthly donation to the Wilderness Committee today.
LET'S MAKE A DIFFERENCE TOGETHER
We've already established you like to read to the end, so here's the fine print. It's 96 per cent of our funding which comes from individuals like you and me. About four per cent of our total funding comes from a few grants from foundations. Every gift — no matter the size — has an impact and powers our work for nature.