Paddle for Protection tour set for World Rivers Day, September 28
Thursday, September 18, 2014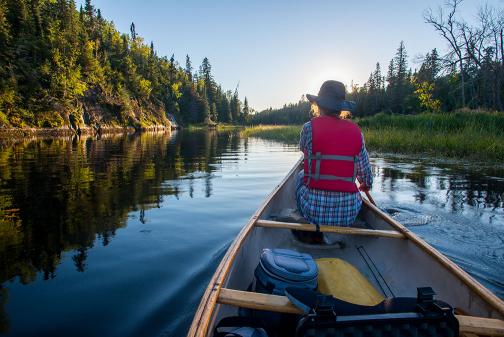 News Release - September 18, 2014
Wilderness Committee-led day trips aim to gain protection for the lower Bird River
WINNIPEG – The Wilderness Committee is leading a series of paddle tours on the lower Bird River to celebrate World Rivers Day on Sunday, September 28, as part of a campaign calling for the protection of this amazing wilderness area.
"The lower Bird River is a beautifully undisturbed river teeming with wildlife, yet it is accessible enough to allow Manitobans to easily experience real wilderness," said Eric Reder, Campaign Director for the WIlderness Committee. "It is a jewel in Manitoba's vast wilderness, and we want to see it protected."
The Bird River is iconic for paddling in Manitoba. The upper portion is in a protected section of Nopiming Provincial Park, and is part of the most popular canoe route in the province. The lower section of the river, however – from the Nopiming Park boundary until it flows into the Winnipeg River – is not protected. The Wilderness Committee is calling on the Manitoba government to permanently protect the lower Bird River.
Members of the public have been invited to take part in a day paddle scheduled for September 28, which is World Rivers Day. There has been so much interest in this tour that a second paddle tour has been added for Saturday, September 27.
"We received an overwhelming response to this first Paddle for Protection, which I think is testament to how Manitobans appreciate wilderness and the Bird River," said Reder. "We've invited along elected officials and decision-makers, so they too can experience this wonderful river and understand why we are trying to protect it."
This paddle event is a Wilderness Witness tour, an initiative from the Wilderness Committee to help give Manitobans opportunities to explore and connect with threatened wild areas in the province.
–30–
For more information, contact:
Eric Reder | Manitoba Campaign Director, Wilderness Committee
204-997-8584, eric@wildernesscommittee.org
Event details are available here:
https://wildernesscommittee.org/event/wilderness_witness_tour_paddle_the_lower_bird_river
Photos and b-roll footage of the lower Bird River are available upon request.