Thousands rally at BC Legislature demanding immediate action for old growth forests
Saturday, February 25, 2023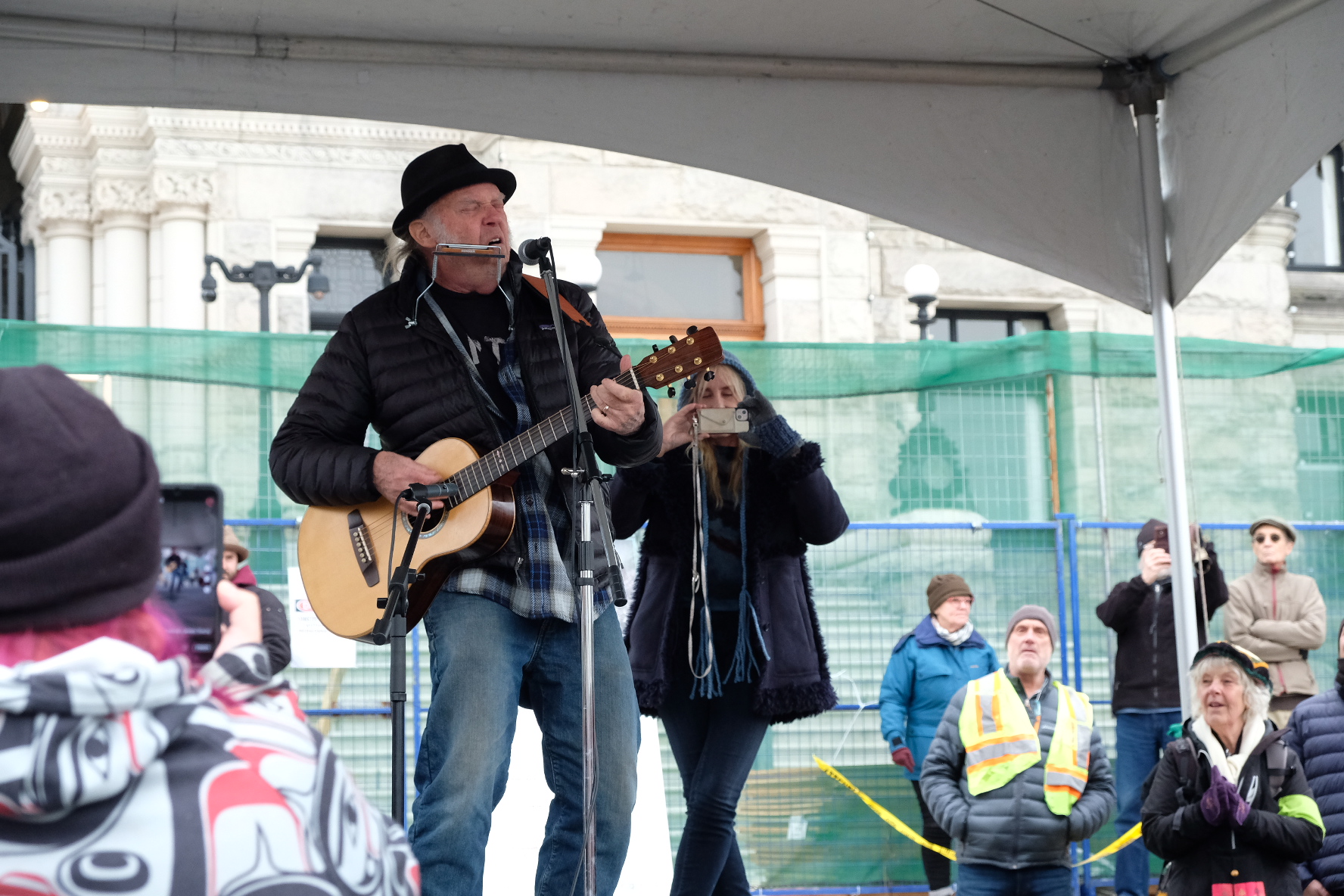 Speakers, demonstrators call on Premier Eby to fulfill 100-day pledge and accelerate action for at-risk old growth 
Lekwungen Territories (Victoria, B.C.) – On his 100th day in office, Premier David Eby was faced with a united call from thousands of people demanding he fulfill his pledge and work with First Nations to protect at-risk old growth and reform forest stewardship.
Photos and videos are available here and will be updated throughout the day
Thousands marched through the downtown core of the province's capital, led by Indigenous Peoples and drummers. Demonstrators raised banners, mobile murals and 3D art pieces through the streets, featuring endangered forest species. The march culminated in a rally in front of the BC Legislature. Speakers included Indigenous leaders and land defenders, scientists, and a surprise musical appearance from Neil Young.
"Old growth forests are vital for the health our lands and waters, our salmon and our culture, and the days of cutting them down need to end," said walas 'Namugwis, David Knox, a Kwakwaka'wakw Hereditary Chief and member of the Kwakiutl Nation. "Too much land in our territory has been destroyed, and this continues without the free, prior and informed consent of our chiefs and people."
More than 220 organizations have now signed onto the United for Old Growth declaration, including the BC General Employees Union (BCGEU), the BC Poverty Reduction Coalition, the Greater Victoria Teachers' Association and the BC Teachers' Federation Committee for Action on Social Justice. Initial signatories to the declaration are the Union of BC Indian Chiefs (UBCIC), Elders for Ancient Trees, Sierra Club BC, Stand.earth, and Wilderness Committee. 
"Old growth forests are crucial ecosystems that humanity depends on⁠—an irreplaceable result of millions of years of evolution," said Janelle Lapointe, and Afro-Indigenous climate justice and Indigenous rights organizer from the Stellat'en First Nation. "We must reject status quo politics that tell us we must choose between providing for our families and protecting the land, watersheds and forests that sustain us."
Signatories and participants in this march and rally called on Premier David Eby and the BC NDP government to honour their promise to move faster to protect old growth forests and reform forest stewardship across the province. Today aligns with Eby's 100th day in office, and demonstrators are looking to the Premier to take immediate, concrete steps to put at-risk old growth forests off limits to industrial logging – as a central part in fulfilling his 100-day pledge to accelerate action on old growth. 
"Human beings have become the dominant factor altering the physical, chemical and biological properties of the planet on a geological scale," said David Suzuki, biologist and broadcaster. "In a critical moment when climate change and mass species extinction are undeniable, it's an intergenerational crime to trash these priceless treasures for short term economic and political benefits."
The BC NDP government promised to implement all 14 recommendations from the Old Growth Strategic Review in 2020, including to immediately stop (or defer) logging in the most at-risk old growth forests. The recommendations had specific implementation timelines, ranging from six months for deferrals to three years for establishing a robust monitoring system – but to this day not a single recommendation has been fulfilled, despite recent announcements from the BC government. The majority of the most at-risk old growth forests identified by the Technical Advisory Panel have not yet been deferred, and are still being destroyed.
March and rally organizers say the Declaration will remain a rallying point for old growth and invite more signatories to join to increase momentum and pressure on Premier Eby the B.C. NDP government to fulfill their pledge.