Wilderness Committee Honours Rafe Mair with Award for Ongoing Commitment to Environmental Protection
Saturday, October 20, 2012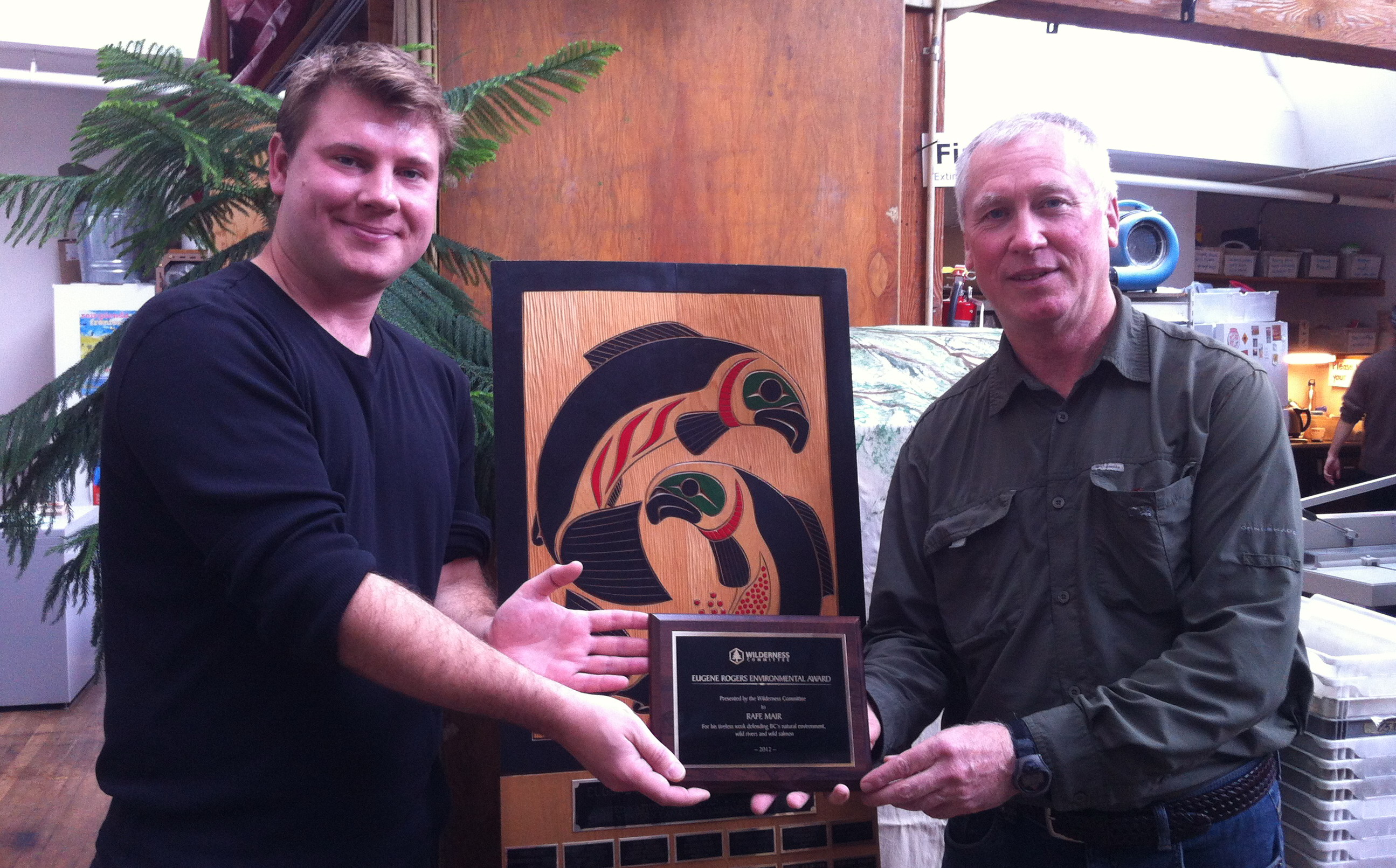 News Release - October 20, 2012
Broadcaster and former cabinet minister recognized for outspoken opposition to salmon farms, private hydropower and pipelines  - (see video here)
VANCOUVER – Today the Wilderness Committee announced that Rafe Mair, political commentator and co-founder of the online publication Common Sense Canadian, is the winner of the 2012 Eugene Rogers Environmental Award for his outspoken determination to protect BC's environment and wild fish from threats posed by salmon farming, private hydropower and proposed oil pipeline projects.
The Eugene Rogers Award has been given out once a year since 1992 by the Wilderness Committee at its Annual General Meeting. The annual award goes to a person who has made an outstanding contribution to environmental protection in BC, and it comes with a $1,000 prize.
Rafe Mair has been an iconic voice in the province for decades, consistently standing up for his environmental values over the course of his career as a politician and cabinet minister, broadcaster and writer. His bold criticism of salmon farms and private run-of-river hydro projects has helped broaden awareness about the severe dangers associated with these industrial developments, and more recently he has also been active in the dialogue surrounding proposed tar sands pipelines like the Enbridge Northern Gateway and Kinder Morgan pipeline projects.
"The Wilderness Committee has been very impressed by Rafe's outspoken defence of the environment, particularly his defence of BC's wild salmon and trout," said Joe Foy, the Wilderness Committee's National Campaign Director. "Despite all the obstacles, he has never backed down from a fight."
In addition to the risk of oil spills in BC's salmon-bearing streams and coastal waters if pipeline projects go ahead, wild salmon in the province face serious threats from disease and other contamination caused by open-net salmon farms on the Pacific coast. Private power projects being developed on BC's wild rivers also have a significant impact on fish populations, due to problems such as water-flow management and fluctuations that have been shown to strand and kill fish.
In receiving the Eugene Rogers Award, Mair joins other environmental heroes in BC including salmon activist Alexandra Morton; environmentalist and great-grandmother Betty Krawczyk; and last year's winner, Chief Marilyn Baptiste of the Xeni Gwet'in (whose ongoing work strives to protect BC's Fish Lake from the proposed New Prosperity Mine).
Mair was unable to attend today's event and receive his award in person, but has been accepted on his behalf by friend and Common Sense Canadian co-founder Damien Gillis.
—30—
For more information, contact:
Joe Foy, National Campaign Director, Wilderness Committee – (604) 880-2580
Photo: Damien Gillis (accepting the Eugene Rogers Award on behalf of Rafe Mair) and Joe Foy.