Wilderness Committee says online system makes park permits cost more, discourages outdoor rec
Thursday, May 07, 2020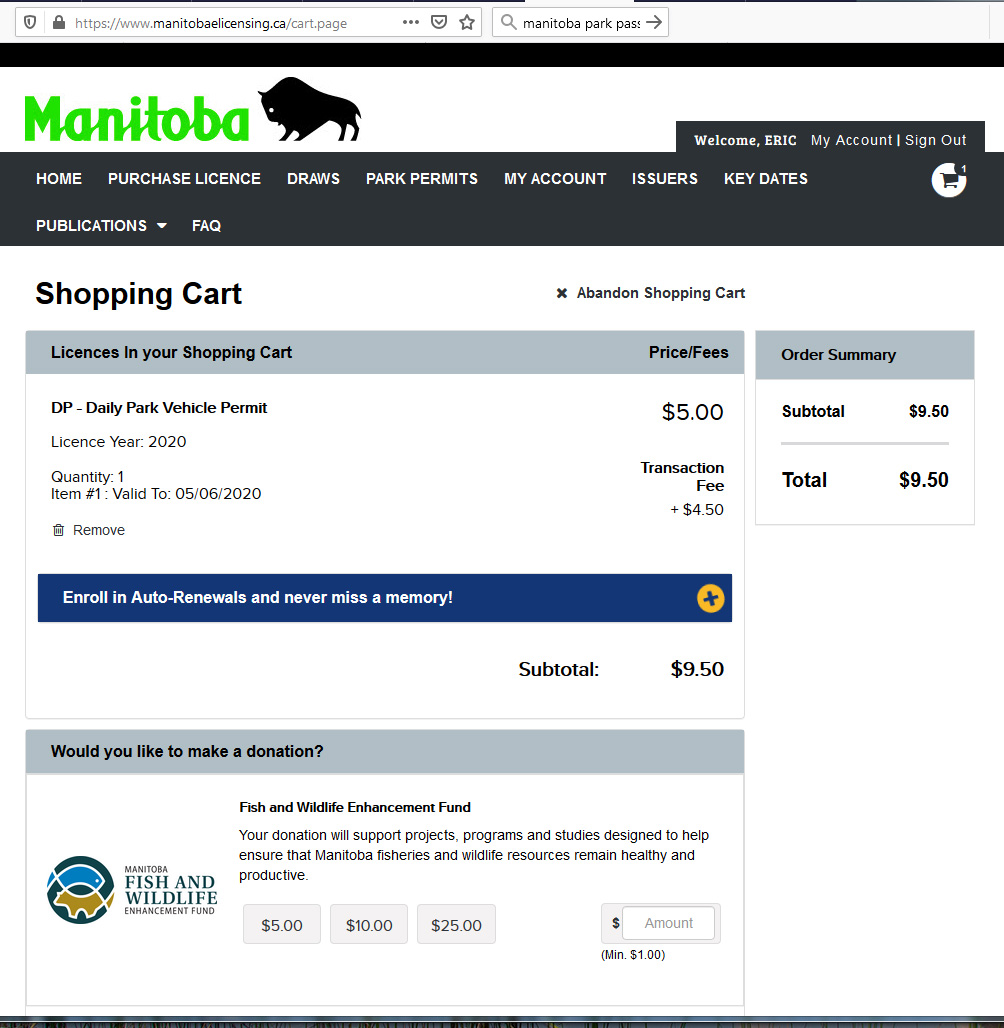 With the open-water fishing season beginning May 9 in southern Manitoba and May 16 throughout the rest of the province, the number of fishing licences sold should soon increase, though purchases must now be made online at www.manitobaelicensing.ca, or at participating retailers, which no longer include Paint Lake Lodge.
The online purchasing system went live April 9, giving Manitobans 24-hour access to fishing and hunting licences, as well as annual and one- to three-day provincial park vehicle permits but the Wilderness Committee says the main benefits flow to the government, which has tacked on a $4.50 transaction fee to all permit and licence purchases, with the exception of Manitoba resident seniors' conservation angling licences.
"This is another terrible, money-grabbing move against the environment by [Premier Brian] Pallister and his cronies," said Eric Reder of the Wilderness Committee.
With the new administrative fee, the cost of a one-day vehicle permit has gone from $5 to $9.50, while conservation angling licences went up nearly 24 per cent, from $19.20 to $23.70.
With the new system, annual vehicle passes are no longer transferable from one vehicle to any other, as only two vehicle licence plates can be assigned to each annual permit.
Paint Lake Lodge co-owner Kathy Ruiter told the Thompson Citizen after the transition to online licence sales was announced in March that the business would no longer sell fishing licences and park passes, in part because of the quality of their internet service. She also said that her and her husband Barry's experience as owners of a lodge in Saskatchewan showed them that providing the service is less economically advantageous once people can buy the licences and permits online. She said at the lodge they owned in Saskatchewan, the number of licences they sold dropped by about two-thirds within a couple of years of sales moving online. Vendors only receive $1 for each licence or permit they sell.
Canadian Tire store owner Mike Howell previously told the Citizen that he intended to continue as a licence and permit vendor once the e-licensing system was introduced.
A Conservation and Climate Department spokesperson said short-term vehicle permits will still be available at parks but it will depend on internet connectivity if they have access to the online system to sell annual passes. The Paint Lake Provincial Park campground office will have the capacity to sell annual vehicle permits, he said - though the office is often closed for short periods during the day as well as in the evenings.
Licences and park permits will also be sold at Conservation and Climate Department offices.
Licences and vehicle permits purchased online must be printed out so they can be carried for inspection by conservation officers or, in the case of vehicle permits, displayed on the dashboard.
To Reder, making Manitobans pay more to enjoy the province's parks and wilderness does not make sense at a time when other recreation options are limited due to the novel coronavirus pandemic.
"This fee increase will keep Manitobans from getting out into nature, and it shows how disconnected this government is from the critical and growing need to keep people in touch with wilderness," said Reder. "The benefits in increased mental well being and lower health care costs for Manitobans far outweigh the expense of selling licences online. Access to nature should be free. Manitobans love their parks and lake country, and the experiences we have in parks enrich our province. Lowering barriers to nature is a critical path to make our lives better."
To view the original article published by the Thompson Citizen please click here.