Dasiqox Tribal Park
Thursday, May 07, 2015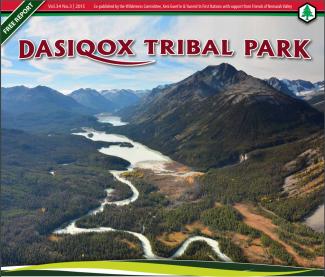 Safeguarding nature and culture in Tsilhqot'in Nation territory
Big wild animals like grizzly bears, moose and wolves need big wild country to survive and thrive. That's one reason why we are so excited by the Tsilhqot'in Nation's recently announced Dasiqox (pronounced Dah-zee-koh) Tribal Park initiative.
Located about 125 kilometres southwest of Williams Lake, BC, the Dasiqox Tribal Park covers over 300,000 hectares of spectacular wilderness and prime wildlife habitats. The tribal park is situated in the heart of Tsilhqot'in Nation territory, and would also protect important cultural and spiritual areas from inappropriate industrial development.
The Wilderness Committee has partnered with local First Nations and conservationists to produce this new educational report, which provides some insight on the region's amazing wilderness, the people who live here and the events that led to the historic Dasiqox Tribal Park designation. 
Read on to find out more about this incredible territory and see how you can support the Tsilhqot'in Nation's wild vision.
This report was co-published by the Wilderness Committee, Xeni Gwet'in and Yunesit'in First Nations with support from Friends of the Nemaiah Valley.