Ha'uukmin Tribal Park - Tofino, Clayoquot Sound
Wednesday, June 17, 2009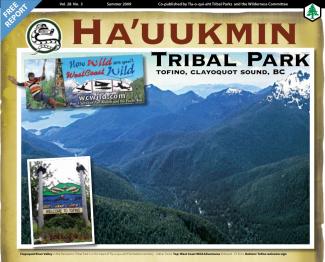 Clayoquot Sound has been an international destination for over two hundred years, and has seen its share of conflicts — from the battle that sank the merchant ship Tonquin in 1811 to the protests over plans to clearcut log Meares Island in 1984. 
 On April 21, 1984 the Tla-o-qui-aht proclaimed Meares Island as a Tribal Park, and were supported by their neighbors, the Ahousat First Nations. First protests, then a court case mounted by the tribes of Clayoquot Sound finally succeeded in fending off the logging company, MacMillan Bloedel, who wanted to log Meares.
Now, two decades later, the Tla-oqui-aht have announced their latest nation-building initiative – the Ha'uukmin Tribal Park. In the Nuu-chah-nulth language, Ha'uukmin means 'like a great feast bowl', which speaks of its former abundance.
The Ha'uukmin Tribal Park is a great place to go to experience the amazing mountain rainforest of Tla-o-qui-aht territory.
You can also view a map of the Witness Trail here.

Read the full report...