Save Fish Lake
Wednesday, August 01, 2012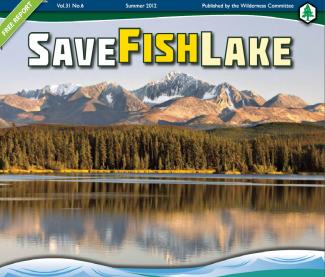 Save Fish Lake...Again
The lands of the Tsilhqot'in Nation are rich in history, natural beauty and abundance. Situated on the Chilcotin Plateau west of the town of Williams Lake, BC, the Tsilhqot'in Nation's boundaries encompass a wide range of forests, rivers, lakes and grasslands stretching from the Fraser River all the way to the soaring peaks of the Coast Range.
In early 2009, a federal environmental review panel was appointed by then Minister of the Environment, the Honourable Jim Prentice, to conduct a review of a proposal by Vancouver-based Taseko Mines Limited to construct a massive open pit gold and copper mine in the heart of Tsilhqot'in territory.
The proposed mine was to be situated right next to Fish Lake ("Teztan Biny" in the Tsilhqot'in language), and the company planned to drain the trout-filled lake in order to create a place to dump its rock waste from the mining operation. Taseko had named the proposal the Prosperity Mine.
Thankfully, the proposed Prosperity Mine was turned down in late 2010 by Minister Prentice, who said at the time that, "[The environmental review report] was scathing in its comments about the impact on the environment. It was, I would say, probably the most condemning report that I've seen." But in a shocking turn of events, within three months of being turned down Taseko Mines Limited came back with a modified mine proposal, which they called the New Prosperity Mine. Then in November 2011, the new federal Environment Minister, the Honourable Peter Kent, allowed for a second federal environmental review of the failed and reworked mine proposal.
Now the fight is on to save Fish Lake—this time from the proposed New Prosperity Mine. This is a fight we need to win.
Read on to learn how you can join in and help out!
 
Joe Foy | National Campaign Director
Wilderness Committee