If you find it only natural to defend the wild, the culmination of a lifetime of activism could be your final act of resistance.
Become a Wilderness Guardian. Include the Wilderness Committee as a charitable beneficiary in your will or estate. Wilderness Guardians are passionate about protecting wilderness and wildlife and want to ensure that passion and protection lives on generations from now.
Here's why. Opportunities to create big change are totally within your power. As a people powered organization we're nearly 100 per cent funded by individuals like you — so a gift in your will can make a big difference for the wild. Bees, bears, caribou, turtles and other endangered species are relying on us to ensure there's a place for them. 
Provide for the wild. A gift by will ensures that the Wilderness Committee remains a nimble, independent voice for a stable climate, public resources and beloved wilderness and wildlife —  all because of you. See how donors like Janice Palmer and others have committed to the wild.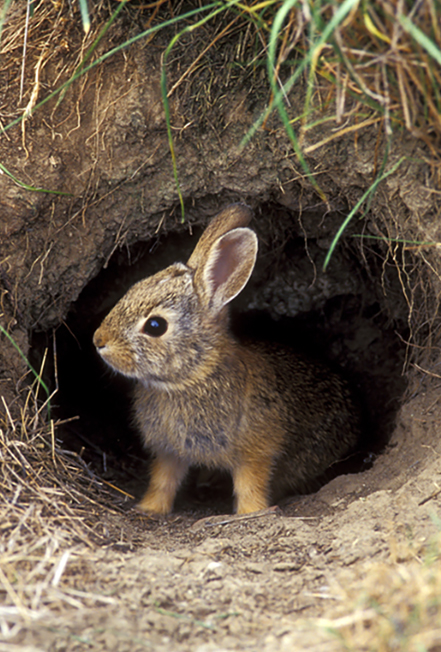 Nuttall's Cottontail Rabbit - Robert McCaw
Benefits for Wilderness Guardians
FREE copy of our Canada's Wild endangered species and spaces calendar — every year!* 

Exclusive campaign updates — we'll keep you current on the most recent developments.

Wilderness witness tours — receive notifications on upcoming day trips to the wilderness, when they're safe to resume.
All these benefits are yours — only if you notify us. You'll be glad you did! 
*Contact plan@wildernesscommittee.org or call Michelle Johnson at 778-708-9179 and she'll be glad to help.
If you decide to join us, a few things to note:
Our legal name is the Western Canada Wilderness Committee (important to avoid confusion about your intention). Canadian Charitable Registration # 11929-3009-RR0001.

Your gift, your choice! If you have specifics in mind or a type of gift not listed here, please get in touch or consult our Gift Acceptance Policy. We will work to meet your wishes and ensure that the Wilderness Committee is the right choice.

How will you use my funds? All funding goes to the area of greatest need, whether that's a trip to spotted owl or caribou habitat to document logging or mining activities that will harm endangered species, or to keep the lights on at the office, both have equal importance. Any funding we receive in excess is put into a contingency fund monitored by our Board of Directors.