People like you have been on the ground with us for 40 years! That's the definition of people powered wilderness preservation. Together, we're working tirelessly to protect life giving biological diversity in Canada through strategic research, community mobilizing and grassroots public education in the following areas:
Featured Campaign Updates
Reports & Publications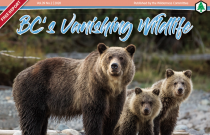 Read the full report by clicking here. Off the coastlines of the Salish Sea in the spring, water turns silver as millions of herring return to spawn in kelp forests. A female herring will lay at least 20,000 eggs and males fertilize them, turning the water chalky white. Animals from sea to sky come...