Provincial parks in the lands now called Manitoba are home to remote sparkling lakes, clear rivers, sandy beaches and wild boreal forests. You can hike through natural grasslands in Spruce Woods, relax on the sand at Grand Beach, cross-country ski at Duck Mountain, spot rare orchids in Nopiming, or paddle down world-famous canoeing rivers in Atikaki.
But despite their beauty, biological diversity and the fact that they generate billions of dollars to local economies, the reality is that parks are still under an increasing barrage of threats.
Mining activity, staff cuts, lack of funding, weak laws, encroaching privatization and government indifference are putting the future of the province's parks in jeopardy.
Once the bad boy on the block for allowing logging in parks, Manitoba now stands out as one of the few jurisdictions to allow mining activity in parks. Favourite parks, including Nopiming, Grass River and Whiteshell have hundreds of active mining claims covering large expanses within them and they are suffering even further from the devastating impacts of mineral exploration. Adding more pressure, these parks are already littered with dozens of abandoned and orphaned mines, a lasting reminder of the mining industry's destructive nature.
Until recently, logging was permitted in some of the parks most cherished parks. Few governments in the world clear-cut their parks and Manitoba stood out as one of the worst park-logging offenders.
But in 2009, after a 10-year Wilderness Committee campaign, the government finally relented and stopped logging in all but one park, Duck Mountain, home to some of the most productive aspen parkland and boreal forest in the province.
Manitoba's Forest Amendment Act went into effect on June 11, 2009, but the Wilderness Committee's celebrations were short-lived. Only weeks later, the government issued a license to build a logging road through the heart of the Grass River Provincial Park, causing the same kind of disturbance to wildlife and environmental degradation as logging. This shows a gross inconsistency from the government in light of the recent law and threatens an area that is home to a newly discovered herd of threatened caribou, protected under the province's Endangered Species Act. In September 2009, the Wilderness Committee filed for a formal appeal against this license, but it was rejected without explanation.
And in 2010, after listening to a public outcry against building a children's camp on remote Meditation Lake in Whiteshell Provincial Park, the province showed that more destruction of provincial parks must be expected. Another beloved location has been chosen for the camp – Sylvia Lake – even though the park's management plan claimed there was too much development back in 1983.
Parks are at risk in Manitoba, despite the superficial gains.
The Wilderness Committee believes that the government must continue to hear from the public that parks need permanent and comprehensive protection before more parks and wildlife are threatened by development in areas that should be protected.
Support Us
Your much appreciated donation keeps this work going!
Volunteer
Get in on the action and make a difference!
Reports & Publications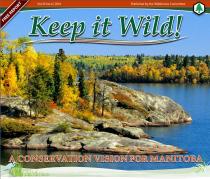 Download our latest educational report A Conservation Vision For Manitoba Keep it Wild education report outlines plan to meet, surpass global protected areas goals. This report highlights the unique opportunity Manitoba has in protecting it's lands and waters. Decades of mining and logging have...