$5.7 million for 28 projects to protect Indigenous ecology and culture
Tuesday, November 13, 2018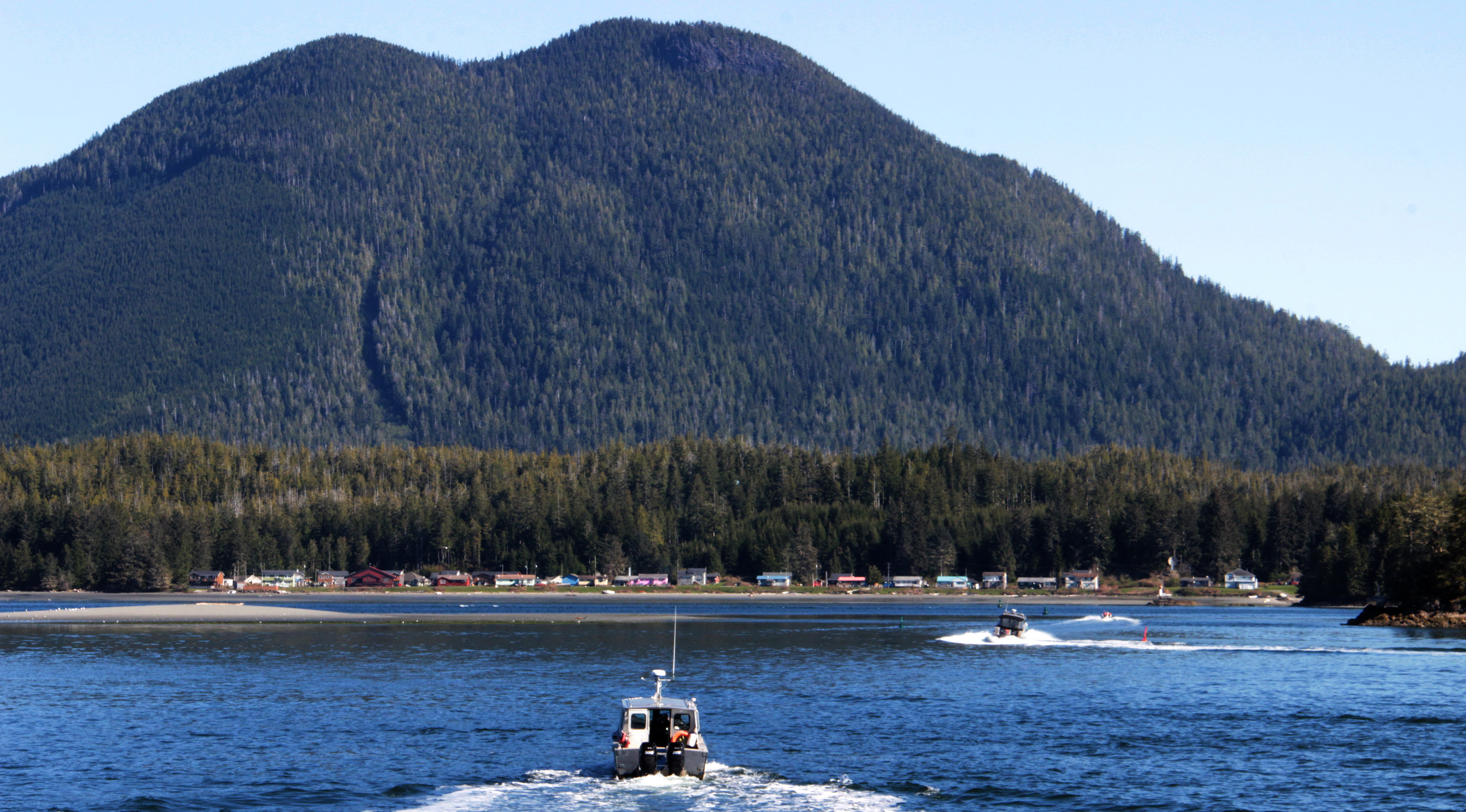 Federal Environment Minister Catherine McKenna announced $5.7 million for 28 Indigenous Guardians conservation projects during a visit to North Saanich on Tuesday.
---
"These initiatives will support Indigenous Guardians across the country in their work protecting sensitive area [and species], monitoring ecological health, and maintaining Indigenous cultural sites," McKenna said at the Institute of Ocean Sciences.
Of the 28 projects given funding, three are on Vancouver Island — Quatsino (a northern Vancouver Island hamlet), Tla-o-qui-at (Tofino) and Tseshaht (Port Alberni) — and are among 10 in B.C.
The $5.7 million comes from a $25-million fund announced in last year's federal budget for the Indigenous Guardians Pilot Program. It received more than 60 applications.
The objective is to "guard the land, to protect the land, to engage the community in monitoring," McKenna said. It's a huge opportunity to better protect nature and species at risk, and strengthens reconciliation with First Nations. "I think it's a great example of how we can do better to protect nature, to learn from Indigenous peoples. Indigenous communities are deeply connected to the land and understand the importance of acting now to protect Canada's environment and conserve biodiversity."
Tla-o-qui-aht Chief Moses Martin was at the announcement. Martin is known for standing up against MacMillan-Bloedel's logging on Meares Island, which led to the War in the Woods to protect Clayoquot Sound's old-growth forests. "I led the fight way back in the '80s," he said. The War in the Woods protests resulted in more than 800 arrests of activists in the summer of 1993.
The funding will help the Tofino First Nation to pass on their language to younger generations, live the culture, and learn how to use and preserve the land and species at risk, Martin said. It is also imperative, he said, to share that knowledge with those in the non-native community. "Helping our young people to understand the importance of taking care of the land not just for us but for future generations, I think that's our responsibility to do that."
Protecting the land and animals is second nature, he said. "That's what we do. That's what we've always done."
Chief Dave Walkem of the Cooks Ferry Indian Band, Citzw Nlaka'pamux Assembly, said his community has created books "encouraging our people and our youth to get back on the land and eat healthier and deal with transferring knowledge." Funds from the Guardian program "implement on the ground what we've been doing."
Wayne Kaboni, manager of the Citxw Nlaka'pamux Assembly, said films have been made by youth, an internet radio station was created, and leadership and environmental camps have been held.
Chiefs are concerned about the impact of industrial development, mining and forestry on fish-spawning grounds and wildlife, he said. The goal is to get more people in the nation working together, talking together and sharing information," Kaboni said.
Izaac Wilman of Nunavut Tunngavik Inc. said being at the Northwest Passage means that "climate change and wildlife issues are huge problems for us." The Guardian program there includes a marine monitoring official and an automated identification system to track vessel traffic in key areas around Nunavut, helping the public to learn about the effects of shipping and exploration on Arctic waters and wildlife.
The Inuit are also monitoring to "to keep wildlife safe from human interaction and keep humans safe from wildlife interactions" given this is "a huge problem," said Wilman. Western Hudson Bay communities are seeing an increasing number of polar bears coming into towns due to climate change, he said.
As part of her visit to Vancouver Island, McKenna was at Pearson College on Tuesday afternoon where she hiked with community leaders and students to highlight the importance of nature and protected areas.
This morning, McKenna is scheduled to met with B.C. Environment Minister George Heyman at the Swan Lake Christmas Hill Nature Sanctuary to announce an investment to expand the Darkwoods Conservation Area.