Chief Marilyn Baptiste wins award for her spirited defence of environment
Saturday, October 22, 2011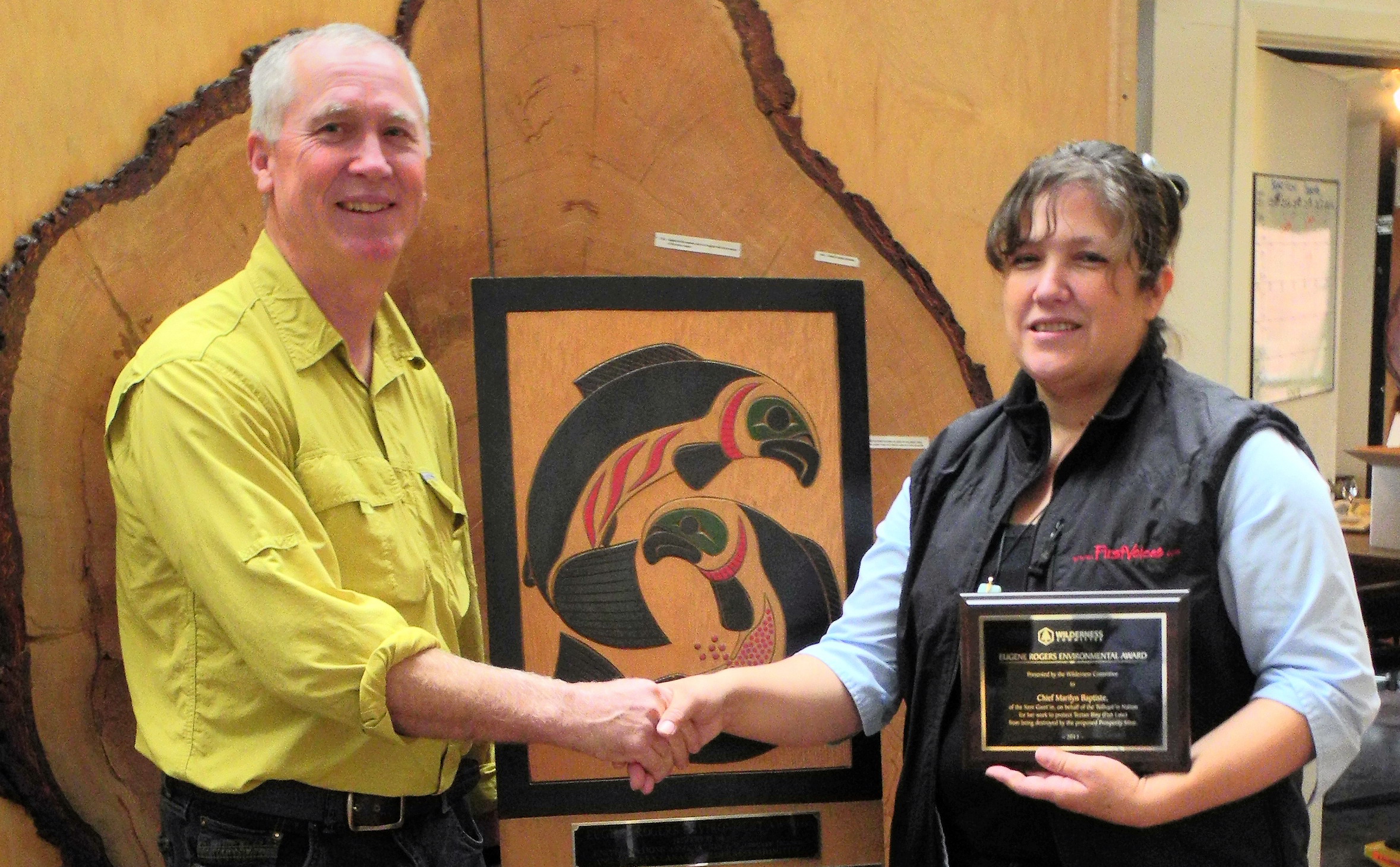 VANCOUVER – The Wilderness Committee announced today that Chief Marilyn Baptiste, of Xeni Gwet'in, was given the 2011 Eugene Rogers Environmental Award for her work on behalf of the Tsilhqot'in Nation to protect Teztan Biny (Fish Lake) from being destroyed by the proposed Prosperity Mine.
The Eugene Rogers Award has been given out once a year since 1992 by the Wilderness Committee at its Annual General Meeting to a person who has made an outstanding contribution to environmental protection. The award comes with a $1,000 prize.
Chief Baptiste is the elected leader of Xeni Gwet'in, one of the communities of the Tsilhqot'in Nation, whose territory largely lies to the west of the Fraser River and Williams Lake, BC. 
Throughout 2010 Chief Baptiste became known as a spirited speaker who traveled the province on behalf of the Tsilhqot'in Nation to explain the importance of Teztan Biny (Fish Lake) to the Tsilhqot'in people and to call for the cancellation of plans to destroy the lake in order to put in a huge open-pit copper and gold mine. The proposed mine was named 'Prosperity' by the mining company Taseko Ltd that holds the claim.
Teztan Biny (Fish Lake) is home to an estimated 80,000 rainbow trout and would have been used as a toxic tailings pond had the mine gone ahead. In November of 2010, the federal government of Canada turned down the project, citing unacceptable environmental impacts, even though the BC government had earlier green-lighted the proposed mine.
"Through all the drama of the BC government approval of the mine, and then the federal government rejection of the mine, Chief Baptiste remained a clear and passionate voice for the protection of Teztan Biny (Fish Lake) and the surrounding environment it sustains," said Joe Foy, National Campaign Director of the Wilderness Committee.  "We are proud to give this award to such a strong voice for the protection of the environment," said Foy.
Taseko Mines Ltd. is now proposing to turn neighbouring Little Fish Lake into a toxic tailings pond and is asking the federal government of Canada to reconsider their mine proposal. Chief Baptiste and the Tsilhqot'in Nation remain opposed to the company's mine plans. 
Eleven environmental groups, including the Wilderness Committee, have recently said that a gold and copper mine at Little Fish Lake would be even more of an environmental disaster than the company's original proposal and must be turned down for federal public review.
—30—
Contact:
Chief Marilyn Baptiste – Cell tel: 250-267-1401
Joe Foy, National Campaign Director, Wilderness Committee – Cell tel: 604-880-2580