Demonstrators take to Vancouver streets in support of Wet'suwet'en
Friday, February 07, 2020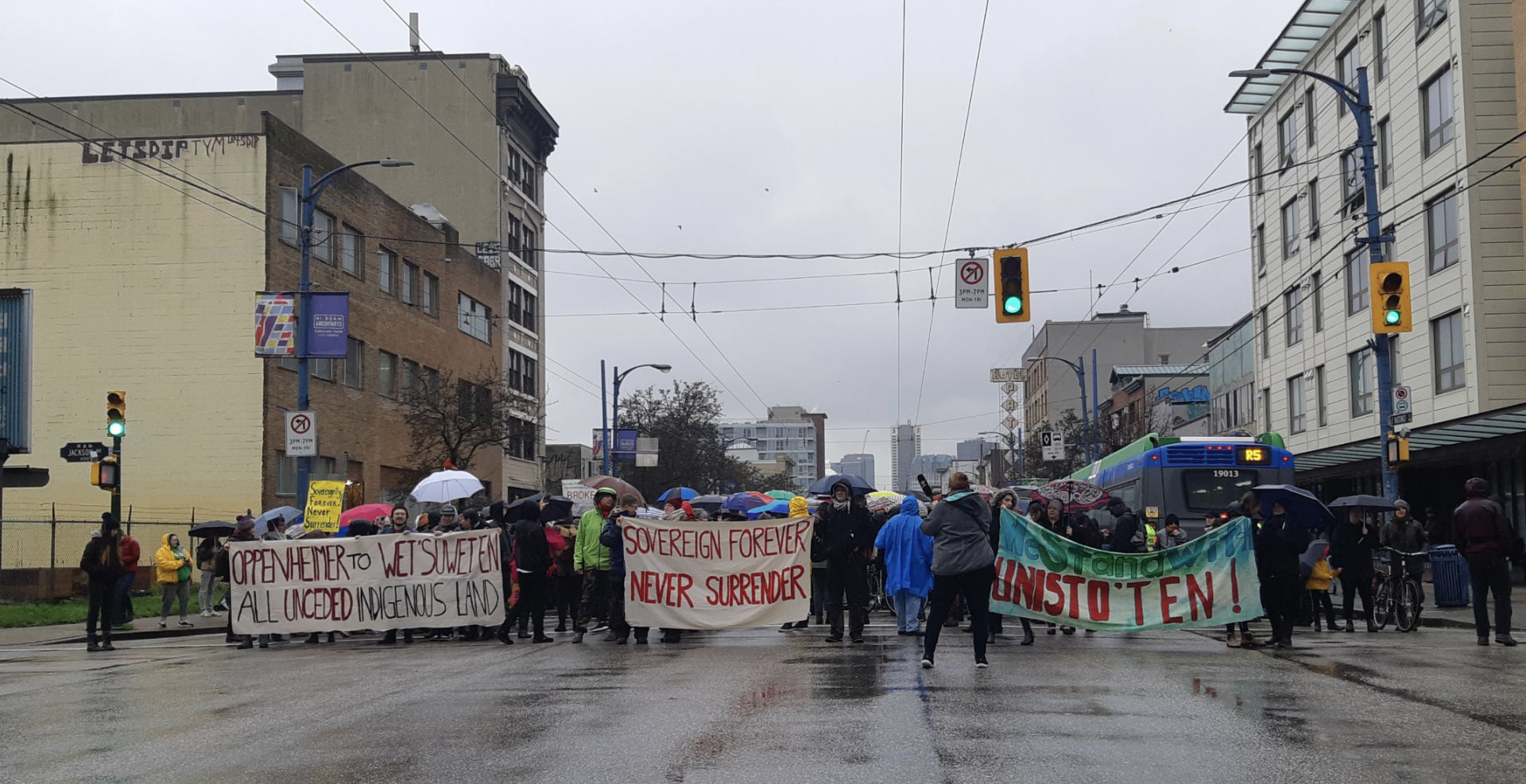 Demonstrators set up a blockade at the Port of Vancouver this afternoon to show their support to the Wet'suwet'en.
Port of Vancouver is shut down in solidarity with Wet'suwet'en. They're asking folks to come down and show their support. #WetsuwetenStrong #bcpoli pic.twitter.com/xU1EW7yGaH

— Wilderness Committee (@wildernews) February 6, 2020
Out here at Wet'suwet'en solidarity rally on Hastings to say removing indigenous peoples from their territory is wrong. Simple as that but Canada still doesn't get it. #WetsuwetenStrong #bcpoli pic.twitter.com/2cAQTQQO5W

— Wilderness Committee (@wildernews) February 6, 2020
On Twitter, the Vancouver Police Department has advised drivers to avoid the area of Powell, Hastings, and Heatly Street, as protests are causing traffic gridlock.
Drivers are advised to avoid the area of Powell / Hastings / Heatley Street, as protests are causing traffic gridlock. #VanTraffic

— Vancouver Police (@VancouverPD) February 6, 2020
Activists organized demonstrations across Canada after RCMP began enforcing an injunction to remove protesters from impeding the Coast GasLink pipeline construction site on unceded Wet'suwet'en territory in northern BC.
The injunction from BC Supreme Court from CGL was issued earlier this year, and it orders protesters to clear the way and move obstructions for workers.
Reports coming from the Wet'suwet'en camp say six activists were arrested this morning and sent to the RCMP detachment in Houston, BC.
Canadians are horrified to see photos of armed police forcing Wet'suwet'en people off their territories & your gov. has failed to prevent this from happening again. You need to speak out against these human rights violations now.@jjhorgan @BruceRalston @Dave_Eby @scottfraserndp https://t.co/4MrPzQt59p

— Wilderness Committee (@wildernews) February 6, 2020
RCMP later confirmed the arrests.
"Just after 4:00 am officers went into the camp at 39.5 km to remove those whose presence would interfere with the lawful execution of duties," said police.
"Individuals were told that the area they were occupying was, as of 3 o'clock that morning, now a part of the exclusion zone and were given the option to depart the area or be arrested for obstruction. A total of 6 individuals refused to leave the area and were arrested for obstruction."
In an open letter published today, the BC Civil Liberties Association said that it is "highly concerned about the developing situation in Wet'suwet'en territories.
"We are alarmed by the institution of an overbroad RCMP exclusion zone prohibiting Wet'suwet'en people, journalists, and the public from entering and monitoring police activity. The BCCLA strongly urges the RCMP to refrain from instituting exclusion zones that prohibit the public, invited guests of the Wet'suwet'en, and media from accessing the area," reads the statement.
Indigenous youth activists also took to the steps of the BC Legislature this afternoon to show solidarity.
BREAKING: Indigenous youth have locked down the BC Legislature in solidarity with #Wetsuweten. Please amplify!@Terrilltf @LeahGazan @Pam_Palmater @NaomiAKlein @CreeClayton @HarshaWalia @derrickokeefe #WetsuwetenStrong #bcpoli #cdnpoli https://t.co/9RspefoAqW

— Torrance Coste (@TorranceCoste) February 6, 2020
Today Indigenous Youth in Solidarity with #Wetsuweten are locked down to the ceremonial gate in Lekwungen territories, at the BC Legislature.

RCMP off Wet'suwet'en land!#WetsuwetenStrong pic.twitter.com/O2aOeZgOdr

— Stacie Swain (@StacieASwain) February 6, 2020
In a statement released earlier today, RCMP said they "had committed to respecting the 7-day discussion period [referred to by the Wet'suwet'en as "Wiggus"] by not taking action to enforce the court-ordered injunction."
"However, given that the stakeholders were not able to come to an agreement during the 'Wiggus' and the RCMP has maximized the discretionary time frame given by the Court, we will be enforcing the injunction today, February 6, 2020."
With files from Rumneek Johal.
To view the original article published by DH News click here.