Environmental groups challenge federal minister's eight-month emergency order delay for spotted owl
Tuesday, October 17, 2023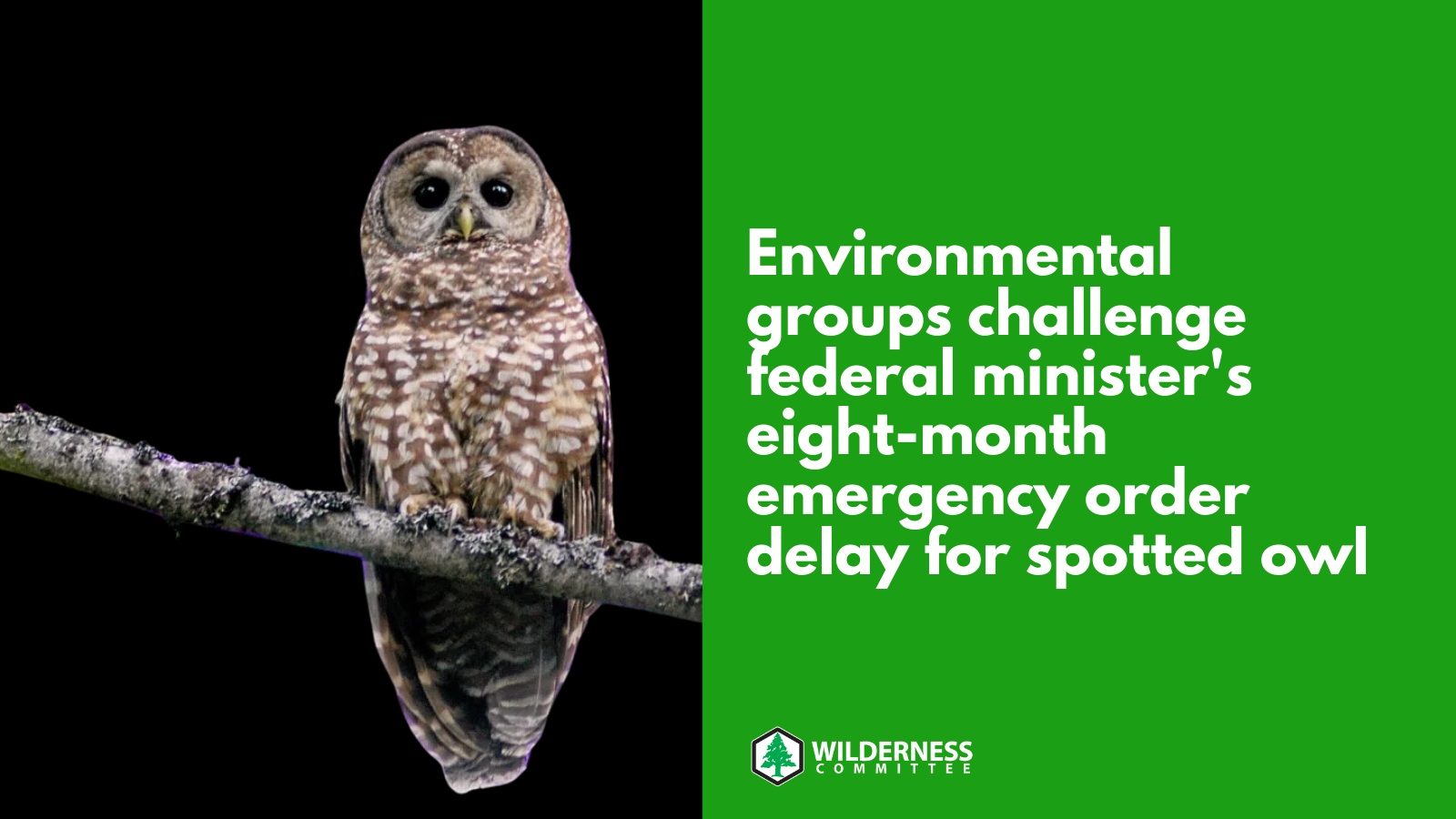 səl̓ílwətaʔɬ (Tsleil-Waututh), xʷməθkwəy̓əm (Musqueam) and Skwxwú7mesh (Squamish) Territories (Vancouver, B.C.) – Wilderness Committee, represented by Ecojustice lawyers, is challenging in Federal Court the eight-month delay of Federal Minister of Environment and Climate Change Steven Guilbeault to recommend an emergency order to prevent the extinction of the spotted owl in Canada.
Where: Federal Court, 701 W Georgia St, Vancouver (courtroom TBA)
When: October 18, court hearing starts at 9:30 a.m.
Wilderness Committee argues that Guilbeault's delay in recommending an emergency order to protect the spotted owl's habitat endangered the recovery of the species and was not allowed under the Species at Risk Act. The hearing will address the minister's legal obligation to take urgent action against imminent logging in habitat necessary for the owl to recover to a stable population.
-30-
Please note: This is an advisory for journalists. Further information will be provided by press release the day of the court case.
For more information contact: 
Torrance Coste | National Campaign Director, Wilderness Committee
250-516-9900, torrance@wildernesscommittee.org
Chief James Hobart | Spô'zêm First Nation
604-860-3571, chief@spuzzumnation.com
Shayoni Mehta | Ecojustice, Communications Specialist
smehta@ecojustice.ca | T: 604-685-5618 | 1-800-926-7744 ext. 249
Joe Foy | Protected Areas Campaigner, Wilderness Committee
604-880-2580, joe@wildernesscommittee.org
 
Fancy meeting you here at the end of this article! Care to hang out together for a few more sentences?
The campaign you just read about is one of about 20 we're actively working on at any given time. And the person who wrote this article is the same campaigner who's asking you to take action, who's calling on our legislators to make changes and who's in the field to bring you photos, videos and stories documenting this issue.
Did you notice how we're a bit distinct, that we're not afraid to call out the industries or governments that threaten what's wild? Unlike other groups, we're almost 100 per cent* "people powered." Individuals like you who care give what they can, when they can. No corporate or government funding restricts our strategies, our actions or our voice. That's how we stay a lean, nimble and unequivocally relentless voice for wilderness, wildlife and the climate. That's why we'd love it if you'd consider joining us by making a monthly donation to the Wilderness Committee today.
LET'S MAKE A DIFFERENCE TOGETHER
We've already established you like to read to the end, so here's the fine print. It's 96 per cent of our funding which comes from individuals like you and me. About four per cent of our total funding comes from a few grants from foundations. Every gift — no matter the size — has an impact and powers our work for nature.