Get out and explore Tla-o-qui-aht Tribal Parks!
Thursday, June 27, 2013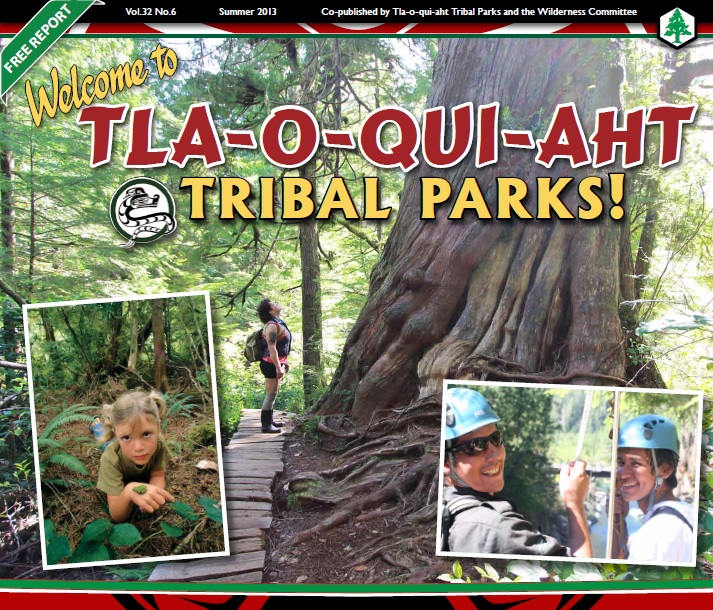 We are very proud to present our newest publication, Welcome to Tla-o-qui-aht Tribal Parks, co-produced with members of the Tla-o-qui-aht First Nation (pronounced klaw-oh-kwee-awt) in Clayoquot Sound.
June 27, 2013
Balancing conservation and sustainable human activity is the key challenge in iconic areas like Clayoquot Sound, and we believe Tribal Parks are an exciting part of the solution!
With the declaration of two new Tribal Parks this year, there are now four Tla-o-qui-aht Tribal Parks, encompassing the entire Tla-o-qui-aht traditional territory!
This newsletter outlines the history of Tribal Parks, how they differ from traditional protected areas, and how Tribal Parks management aims to use traditional teachings and laws in the context of modern land and resource management.
Low-impact, sustainable tourism has been highlighted as a major priority for economic development within Tribal Parks, and this is where you come in! This newsletter will provide you with all the information you need to get out and enjoy the incredible and unique opportunities available within Tla-o-qui-aht Tribal Parks.
Just outside Tofino, walk the legendary Big Tree Trail in Wah-nah-jus – Hilth-hoo-is (Meares Island) Tribal Park. On the way out to the coast, stop in for an exhilarating zipline tour in Ha'uukmin Tribal Park (Kennedy Lake Watershed). These are just a few of the ways you can experience Tla-o-qui-aht Tribal Parks and support sustainable First Nations economic activity in Clayoquot Sound.
So what are you waiting for? Head west – way west – to where the Pacific Ocean and the coastal temperate rainforest come together in an explosion of life, where proud Indigenous culture thrives, and where your adventure awaits!
Click here to download a PDF of the full Tla-o-qui-aht Tribal Parks newsletter.
See you on the trail,
Torrance Coste | Vancouver Island Campaigner