Over 150 Groups Press Banks to Stop Backing Coastal GasLink Pipeline
Wednesday, February 09, 2022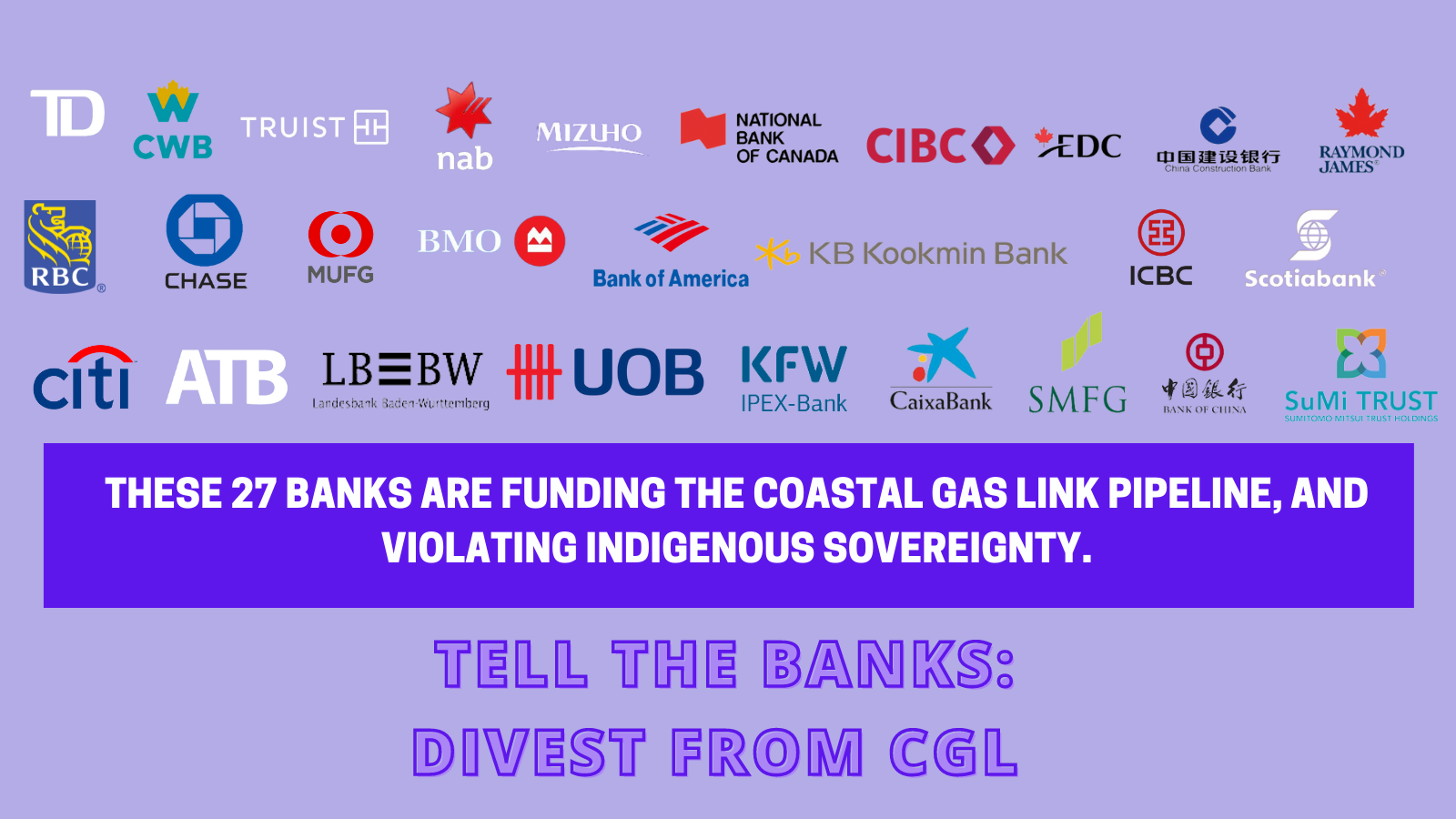 A letter released today by more than 150 non-government organizations is calling on 27 financial institutions led by the Royal Bank of Canada to pull their investment dollars out of the Coastal GasLink pipeline.
The groups released their letter just days after pipeline opponents with the Gidimt'en Clan asked the United Nations Human Rights Council to look into ongoing human rights violations and militarization in their territory.
The NGO letter backgrounds the intense controversy around the 670-kilometre pipeline that would connected fossil gas fracking fields in northeastern British Columbia to the mammoth LNG Canada liquefied natural gas terminal now under construction in Kitimat. It urges the bank to meet with hereditary leadership of the Wet'suwet'en Nation to discuss their concerns about the pipeline and the recent rights violations in their territory, and to stop investing in the project.
"Coastal GasLink has not engaged in respectful consultation with us," said Gidimt'en Checkpoint spokesperson Sleydo' (Molly Wickham), in a citation that leads off the NGO letter. So "backing this project implicates investors in perpetuating violence to our land and on my people. If investors are serious about their commitments to social responsibility and racial justice, they must commit to not financing projects that threaten Wet'suwet'en sovereignty, violate our land, and sacrifice our future."
The UN submission by Gidimt'en Hereditary Chief Dinï ze' Woos (Frank Alec), Sleydo', and Gidimt'en Checkpoint Media Coordinator Jen Wickham was drafted by "leading legal, academic, and human rights experts in Canada" and backed by more than two dozen organizations, including the Union of BC Indian Chiefs and Amnesty International-Canada, the Checkpoint said in a release.
"Ongoing human rights violations, militarization of Wet'suwet'en lands, forcible removal and criminalization of peaceful land defenders, and irreparable harm due to industrial destruction of Wet'suwet'en lands and cultural sites are occurring despite declarations by federal and provincial governments for reconciliation with Indigenous peoples," the submission states.
"By deploying legal, political, and economic tactics to violate our rights, Canada and B.C. are contravening the spirit of reconciliation, as well as their binding obligations to Indigenous law, Canadian constitutional law, UNDRIP [the UN Declaration on the Rights of Indigenous Peoples], and international law."
Check out the original article published by The Energy Mix.
---
🔗 Related links 
Fancy meeting you here at the end of this article! Care to hang out together for a few more sentences?
The campaign you just read about is one of about 20 we're actively working on at any given time. And the person who wrote this article is the same campaigner who's asking you to take action, who's calling on our legislators to make changes and who's in the field to bring you photos, videos and stories documenting this issue.
Did you notice how we're a bit distinct, that we're not afraid to call out the industries or governments that threaten what's wild? Unlike other groups, we're almost 100 per cent* "people powered." Individuals like you who care give what they can, when they can. No corporate or government funding restricts our strategies, our actions or our voice. That's how we stay a lean, nimble and unequivocally relentless voice for wilderness, wildlife and the climate. That's why we'd love it if you'd consider joining us by making a monthly donation to the Wilderness Committee today.

We've already established you like to read to the end, so here's the fine print. It's 96 per cent of our funding which comes from individuals like you and me. About four per cent of our total funding comes from a few grants from foundations. Every gift — no matter the size — has an impact and powers our work for nature.