The Struggle to Create Gwaii Haanas National Park Reserve
Sunday, November 08, 2020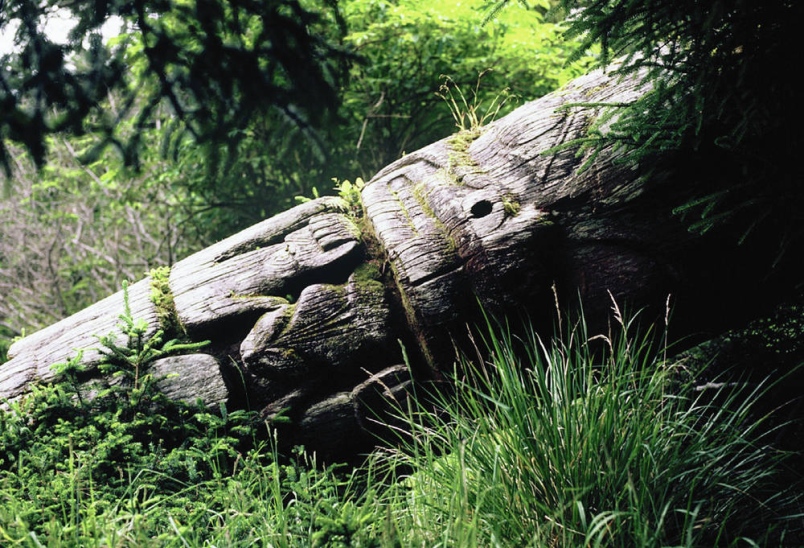 Excerpt from Paradise Won: The Struggle to Create Gwaii Haanas National Park Reserve by Elizabeth May
It was Sunday, July 12, 1987 – the morning after the big Haida feast in Skidegate. Most of the customers at the Helm Café in nearby Queen Charlotte City were weary celebrants. It was a measure of the power and magic of the feast that so much of its mood could linger over the gleaming formica and bacon grease of the small, nondescript café.
Tom McMillan, federal minister of the environment, took his last bite of French toast and congealing syrup, and polished it off with a glass of milk. I sipped my ­coffee and surveyed the old Haida men, Parks bureaucrats, elated environmentalists, and reporters gathered around their separate tables savouring the memories of the previous night's celebration – translucent images of Hereditary Chiefs in their ­traditional costumes of feathers, fur and masks, of young Haida paddlers dancing newly created steps, cheering their own accomplishment, and of Tom McMillan's cake that proclaimed, in green icing, South Moresby National Park.
I had been working for Tom for almost a year, and that celebration of the arrival of Loo Taas, which coincided with the saving of South Moresby, of the end of logging within the area, was the culmination of everything that I had worked and prayed for. In the café were good friends gained in the effort to protect South Moresby: John Broadhead (J.B.), who had put the previous decade or so into the cause; Vicky Husband, who had been working non-stop for the previous six years; Kevin McNamee, who worked for a Toronto-based parks group. He had been in the thick of it for several years as well.
We were in a mood to count our blessings – and our friends. "You know," Vicky said, "we could never have done this without John Fraser. If it wasn't for John, the whole thing could never have happened."
"When you consider how close we came to losing, over and over again," I added, still feeling a sense of unreality. I mean, it really was a miracle. And each time it was nearly lost, someone – Dalton Camp or Don Mazankowski – "just kept it alive." After all this time, it was hard to believe the battle was really won.
And so we went around the table, marvelling at all the people who in one way or another had helped to save the day. Paramount in our thoughts was the dedication and sacrifice of the Haida, especially the 72 men and women who had faced arrest on the logging road of Lyell Island (Athlii Gwaii).
Then Tom said something that reminded me how perceptive he could be. "You know," he began, "not only was the effort of each person absolutely indispensable, but each person contributed something that only he was capable of contributing. Only David Suzuki could have brought South Moresby to public attention the way he did through The Nature of Things and through his own reputation.
"And only Jim Fulton, as [NDP] MP for the area, could have known so much of the local scene and been so committed to saving it. And ultimately, no one but the prime minister could have gotten [B.C. Premier Bill] Vander Zalm's attention. You know, I really believe that the effort of each person, no matter how small, even those people who wrote a single letter, was indispensable and each was unique."
"It's such an incredible story," Vicky said. "I'm trying to talk Sam [her friend Cameron Young] into writing a book about it."
I found myself saying without thinking, "No, I'm going to write the book." Tom pushed back from the table. "Oh," he said teasingly, "I know the kind of book Elizabeth would write. We'd all just be pawns, moved about as if the whole campaign to save South Moresby were part of some sort of giant cosmic divine plan."
J.B. smiled in his cryptic, Mona-Lisa way and said, "Exactly."
Fulton maintained close contact with the Haida, and Paul George kept him up to date on the wilderness wars of British Columbia. The Western Canada Wilderness Committee had completed a four-month-long survey of the attitude of federal members to conservation.
Paul was thrilled to report that of those who responded, most members of all parties said they wanted to protect South Moresby, including former prime minister Joe Clark and a lot of Liberal backbenchers, if not cabinet members.
Neither Jim nor Paul was surprised by the strong support Paul discovered from the member for Vancouver South, John Fraser. Fraser had been minister of environment briefly during the nine-month reign of the Clark government in 1979, making his mark in identifying acid rain as an urgent priority.
But his environmental bent had been known long before that. Fraser offered Paul George his support.
Despite the potential of all-party support for the wilderness proposal, Fulton was frustrated by the handicap of being on the Opposition benches of the House of Commons.
In 1982 he phoned his friend Dr. David Suzuki, host of the CBC show The Nature of Things. "Suzook!"- Jim bellowed. "You've just gotta do a show on South Moresby."
Suzuki didn't like being told that he'd "gotta" do anything. But Jim was very persuasive, and David asked his researchers and producers to take a look at this South Moresby thing. Nancy Archibald, the producer, had already received a call about South Moresby. Bristol Foster, nearing the end of his rope, attending planning team meetings while Lyell Island was shaved of its trees, had phoned Nancy. "How about doing a show on Windy Bay?"
Nancy and Jim Murray, David's CBC boss and best friend, had a look and decided there was at least a half-hour's worth of television in the controversy.
When Suzuki headed to Haida Gwaii, he was just doing another in a series of television programs aimed at increasing the public's awareness of science. A brilliant geneticist, he was the perfect choice for a broadcast medium. He spoke in non-perplexing language, and was able to decode the jargon of each discipline into everyday language. He was good-looking and hip, bearded and blue-denimed. His presence on television was both familiar and authoritative. Fulton was right to believe that if Suzuki told Canadians about South Moresby, Canadians would listen.
The Suzuki who flew into Haida Gwaii had no intention of getting involved in the campaign to save South Moresby. He had never been a champion of Indigenous rights and he was leery of environmental activists who seemed constantly to demand his help.
The interviews arranged by Nancy and Jim included a representative of Western Forest Products, a young Haida, an environmentalist and a couple of bureaucrats involved in the planning team. It wasn't until he was back in Toronto, reviewing footage for editing, that Suzuki realized that his way of thinking had been profoundly affected.
The interview that caused the change was with Guujaaw [Haida leader and activist].
Guujaaw was now nearly 30. Bearded, with his long hair pulled back and braided, he looked tough. Suzuki had probed Guujaaw to try to understand why the Haida cared about the area.
David had thought that the reasons were tied to the historical connection, the fact of ancestral occupation.
And those were the answers he thought he had taped, until back in Toronto in the studio, watching it for perhaps the third time, he heard what Guujaaw had been saying: "Our people have determined that Windy Bay and other areas must be left in their natural condition so that we can keep our identity and pass it on to following generations. The forests, those oceans, are what keep us as Haida people today."
David had interjected with the open-ended half-question, "So if they're logged off?" And Guujaaw answered, "If they're logged off, we'll probably end up the same as everyone else, I guess."
David hit the rewind button and played that last bit again. "If they're logged off, we'll probably end up the same as everyone else."
---
To view the original article published by the Times Colonist, click here.