Environmental groups petition feds to protect critical habitat of last spotted owls
Wednesday, October 26, 2022
Wilderness Committee & Ecojustice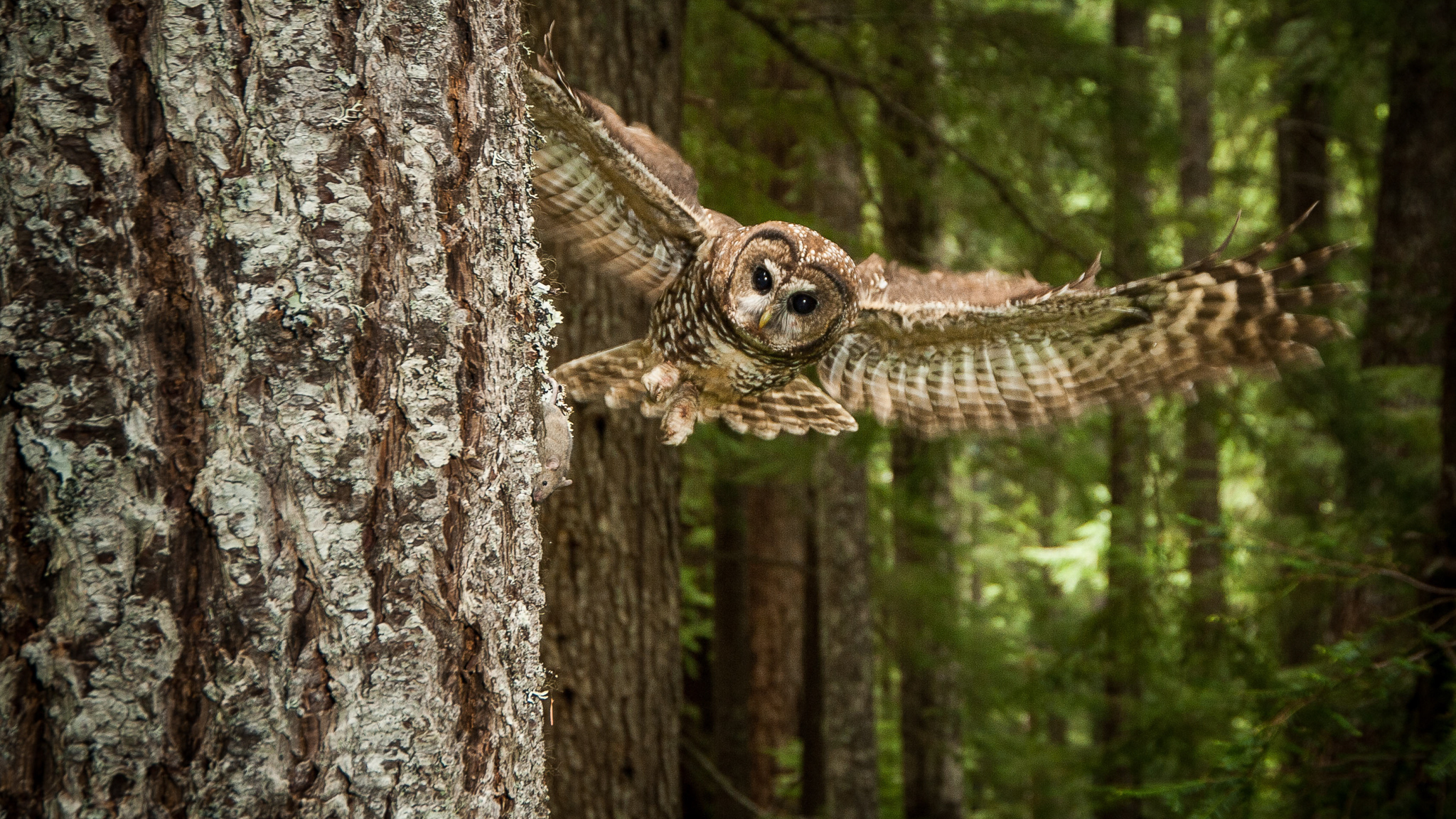 Recovery of species in Canada hinges on successful reintroduction of captive owls to protected habitats
VANCOUVER / UNCEDED xʷməθkʷəy̓əm, Sḵwx̱wú7mesh AND səlilwətaɬ TERRITORIES — Ecojustice, on behalf of the Wilderness Committee, is demanding the federal government live up to its legal responsibility to protect endangered spotted owls and their habitat in British Columbia. The owls are in critical danger of becoming extinct in Canada.

In a petition to Minister of Environment and Climate Change Steven Guilbeault, the groups demand the minister recommend an emergency order that would protect endangered spotted owls and their habitat. 

"Spotted owls are in critical danger of becoming extinct in Canada, in large part, because the B.C. government has continued to approve commercial logging in areas that should have been set aside for the species' recovery," said Ecojustice lawyer Rachel Gutman. "Minister Guilbeault must take immediate action to protect spotted owl habitat and give this species a chance at recovery — if not, we risk losing spotted owls in Canada."

A few months ago, only one known spotted owl was left in the wild in all of Canada. That's now changed with the reintroduction of three captive owls into the wild. Despite the species' steep decline, the B.C. government has continued to approve commercial logging in areas of old-growth forest that should have been set aside for the species' recovery. There are approximately 450 cutblocks that have been approved or are pending approval in areas identified as suitable spotted owl habitat.

When provinces fail to protect endangered species and their habitat, the law requires the federal government to step up and take action.

"The government of Canada's spotted owl recovery plan, including mapping and action to protect habitat, is long overdue," said Protected Areas Campaigner Joe Foy for the Wilderness Committee. "The B.C. government is guilty of approving logging in spotted owl habitat — but Canada has also been guilty of foot-dragging and hand-wringing while this species is being logged to death."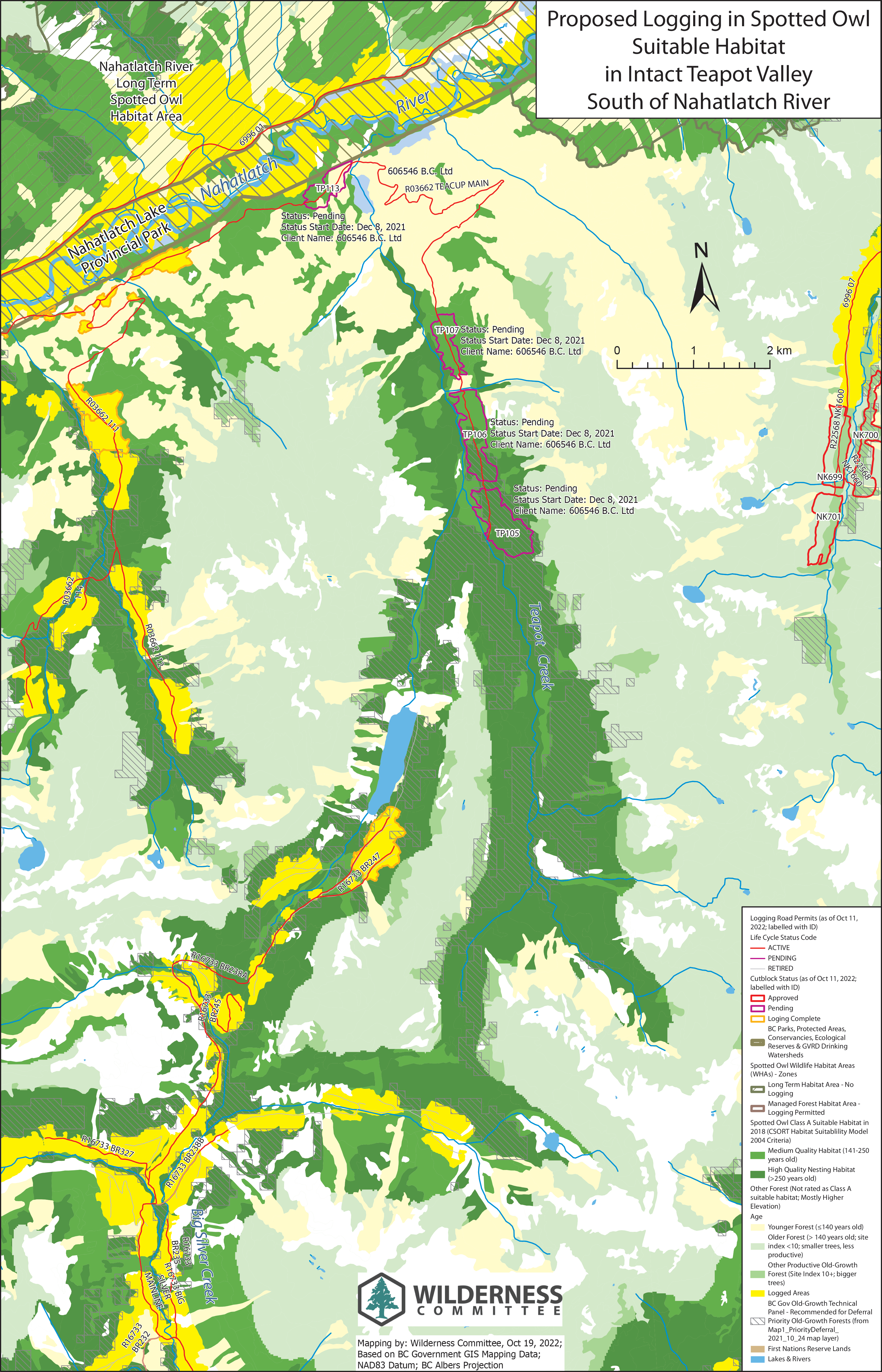 The federal government has a legal responsibility under the Species at Risk Act to protect at-risk species and their habitat from imminent threats and to identify critical habitat that endangered species, like spotted owls, need to survive and recover. Despite this requirement, it has failed to identify critical habitat in an updated recovery strategy for spotted owls. Under the act, an emergency order to protect all spotted owl habitat necessary for their survival and recovery is long-overdue to give this species a fighting chance at survival.

"It would be hard to imagine a species in greater need of emergency action than the spotted owl," said Foy. "Canada must take emergency action now to protect habitat the spotted owl need to survive and recover and then get on with the job of releasing the recovery plan and protecting habitat permanently."

An emergency order could immediately protect all identified spotted owl habitat that is needed for the species to survive and recover to healthy numbers. If the federal government fails to take immediate action now, B.C. will continue to log spotted owls to extinction in Canada.

In two months, Canada will host the 15th United Nations Biodiversity Conference bringing together leaders from around the world with the aim of halting biodiversity loss. Canada presents itself as a global environmental leader, but the federal government's ability to halt biodiversity loss requires strong federal enforcement of habitat protection. Case in point — the spotted owl. 
-30-
Media contacts

Joe Foy, protected areas campaigner, Wilderness Committee
Cell phone number: (604) 880-2580 Email: joe@wildernesscommittee.org

Venetia Jones, communications specialist, Ecojustice
613-903-5898 ext. 714, vjones@ecojustice.ca 

Background
Wilderness Committee and Ecojustice have a long history of working to protect spotted owls.
In 2001, Ecojustice went to court on behalf of the Wilderness Committee and successfully secured an injunction against logging in the Siwash Creek Valley. This was the first time in Canadian history that a court granted an injunction to protect endangered species' habitat.
In October 2020, Ecojustice and the Wilderness Committee submitted a petition to federal Minister of Environment and Climate Change Jonathan Wilkinson, demanding he recommend emergency protections for spotted owls under the federal Species at Risk Act.  
In March 2021, the province put in place a temporary one-year logging deferral for the Spuzzum and Utzlius watersheds, the home of the last remaining wild owls in Canada. In March 2022, the deferral was renewed for another one-year period; however, neither watershed is permanently protected in its entirety. 
British Columbia, Alberta, Saskatchewan, Prince Edward Island, Yukon and Nunavut all lack laws to protect species at risk or biodiversity in some form.
With new international commitments coming up at COP 15 to halt biodiversity loss, Canada promises to halt extinction even though six of its provinces and territories don't have the laws to do so.
Halting biodiversity loss in Canada now depends on federal enforcement, including the use of emergency orders to protect habitat.
---
Fancy meeting you here at the end of this article! Care to hang out together for a few more sentences?
The campaign you just read about is one of about 20 we're actively working on at any given time. And the person who wrote this article is the same campaigner who's asking you to take action, who's calling on our legislators to make changes and who's in the field to bring you photos, videos and stories documenting this issue.
Did you notice how we're a bit distinct, that we're not afraid to call out the industries or governments that threaten what's wild? Unlike other groups, we're almost 100 per cent* "people powered." Individuals like you who care give what they can, when they can. No corporate or government funding restricts our strategies, our actions or our voice. That's how we stay a lean, nimble and unequivocally relentless voice for wilderness, wildlife and the climate. That's why we'd love it if you'd consider joining us by making a monthly donation to the Wilderness Committee today.
LET'S MAKE A DIFFERENCE TOGETHER
We've already established you like to read to the end, so here's the fine print. It's 96 per cent of our funding which comes from individuals like you and me. About four per cent of our total funding comes from a few grants from foundations. Every gift — no matter the size — has an impact and powers our work for nature.