Urgent: Take Action on New Peat Mines
Friday, July 20, 2012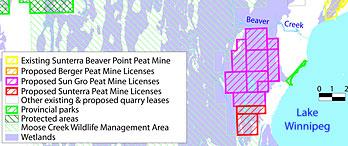 The Wilderness Committee has released a new Action E-alert warning Manitobans about three new proposed peat mines that threaten our healthy natural lands and waters around Lake Winnipeg.
A proposal from Sunterra Horticulture was snuck into public consultation, and we only have until Tuesday, July 24 to submit public comments on these new strip mines.
Sunterra is proposing to mine three separate peat bogs on the Washow - Fisher Peninsula, north of Riverton and Gimli. Sun Gro Horticulture and Berger Peat were recently given licenses to open large new mines in this same area. While the individual mining operations will be harmful in their own right, the cumulative impact of so many mines in one area will be exponential.
But the biggest concern of all is that peat mining causes huge amounts of carbon to be released while inhibiting the area's ability to store carbon. This is bad for our climate and for our chances of mitigating climate change.
That's why we need your help. Please visit our letter-writing tool here, and send a message to the government, saying NO to new peat mines!
 

View a higher resolution map here:
http://wildernesscommittee.org/sites/all/files/proposed_peat_licenses_map_1.jpg