Alberta's Superior Court Rejects Former Premier Kenney's Arguments To Avoid Defamation Lawsuit Brought Forward By Five Environmental Groups
Thursday, May 25, 2023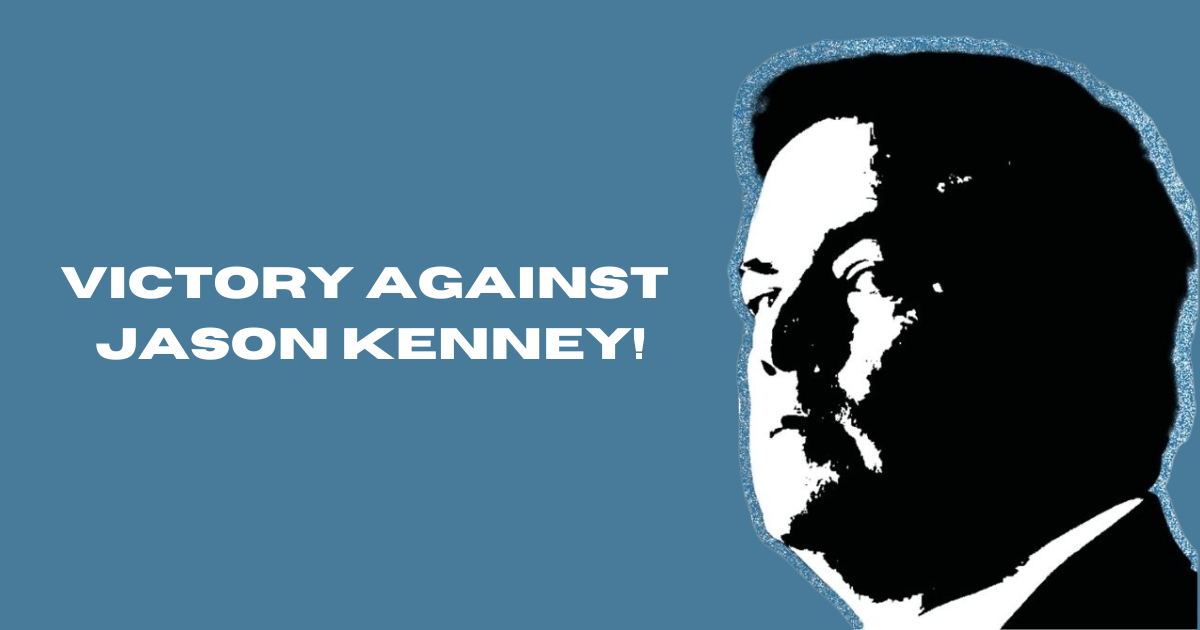 May 25, 2023, Vancouver, Edmonton, Toronto, Ottawa — Alberta's superior court today dismissed attempts by former Premier Jason Kenney and the Alberta government to throw out a defamation lawsuit brought forward by five environmental groups. Environmental Defence, West Coast Environmental Law, Dogwood Initiative, Stand.earth and the Wilderness Committee are suing former Premier Jason Kenney and the Alberta government for lying about the findings of his Public Inquiry into Anti-Alberta Energy Campaigns. Over two years, groups and individuals were named publicly and targeted on social media, causing some individuals to receive death threats.
"Truth matters in a democracy, and today's court decision makes clear that the former Alberta Premier specifically targeted environmental organizations to undermine our efforts to communicate the risks of climate change, and the role an expanding oil industry plays in threatening the future of Canadians," said Tim Gray, Executive Director, Environmental Defence.
Former Alberta Premier Kenney tried to argue that he wasn't referring to the groups specifically, but the court rejected that argument, writing, "Considering the Key Findings Document as a whole, the publication leads any reasonable person to understand that the alleged defamatory statements refer to campaigns of which the Plaintiffs who appear on the list of participants were part."
"Anyone who looks at the report or Kenney's other public statements would know he was referring to our clients," said Paul Champ, the lawyer for the five defamed groups. "The court agreed, ruling that Mr. Kenney was trying to escape liability by hiding behind technical arguments that were unrealistic and baseless.  Albertans are smarter than that." Groups contended that statements in the Alberta government's "Key Findings" document, which were subsequently repeated and amplified by Premier Kenney on social media platforms, were defamatory as they claimed the Inquiry concluded that the environmental groups had deliberately spread "misinformation" about the Alberta oil and gas industry. In his final report of the Public Inquiry into Anti-Alberta Energy Campaigns, Commissioner Steve Allan was unequivocal in his report that he made no such finding, noting environmental groups did nothing wrong, but simply care about climate change.
"Jason Kenney wasted millions of taxpayer dollars on a personal vendetta that backfired. Albertans are still paying for his lawyers as he tries to dodge responsibility for what he said. The sooner he apologizes and retracts his defamatory statements, the sooner we can all move on from this sorry chapter," said Kai Nagata, Communication Director of Dogwood BC.
The defamed groups have asked Kenney and the Alberta government to retract their statements and issue public apologies. To date, former Premier Kenney and Danielle Smith's government have refused. 
-30-
For more information, please contact:
Peter McCartney, Climate Campaigner, Wilderness Committee (778) 239-1935
Paul Champ, Human Rights Lawyer, (613) 816-2441
Tim Gray, Executive Director, Environment Defence, (416) 986-2408
Jessica Clogg, Executive Director, West Coast Environmental Law, (604) 601-2508
Sven Biggs, Stand.earth, Canadian Oil and Gas Programs Director, (778) 882-8354
Kai Nagata, Communications Director, Dogwood BC, (778) 829-6493
Fancy meeting you here at the end of this article! Care to hang out together for a few more sentences?
The campaign you just read about is one of about 20 we're actively working on at any given time. And the person who wrote this article is the same campaigner who's asking you to take action, who's calling on our legislators to make changes and who's in the field to bring you photos, videos and stories documenting this issue.
Did you notice how we're a bit distinct, that we're not afraid to call out the industries or governments that threaten what's wild? Unlike other groups, we're almost 100 per cent* "people powered." Individuals like you who care give what they can, when they can. No corporate or government funding restricts our strategies, our actions or our voice. That's how we stay a lean, nimble and unequivocally relentless voice for wilderness, wildlife and the climate. That's why we'd love it if you'd consider joining us by making a monthly donation to the Wilderness Committee today.
LET'S MAKE A DIFFERENCE TOGETHER
We've already established you like to read to the end, so here's the fine print. It's 96 per cent of our funding which comes from individuals like you and me. About four per cent of our total funding comes from a few grants from foundations. Every gift — no matter the size — has an impact and powers our work for nature.