BC's "Dirty 30" individuals holding back climate action
Tuesday, November 15, 2022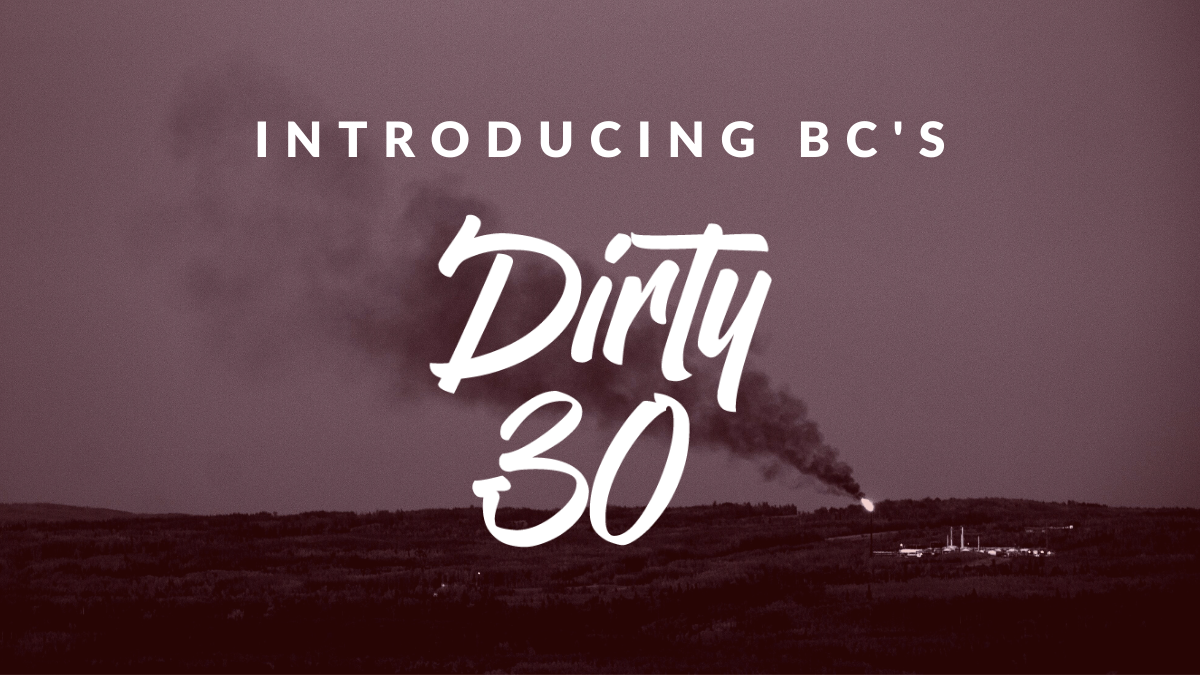 Wilderness Committee names the top 30 people stopping action to protect the climate in British Columbia
VANCOUVER / UNCEDED xʷməθkʷəy̓əm, Sḵwx̱wú7mesh AND səlilwətaɬ TERRITORIES — Wilderness Committee has released a "Dirty 30" list of individuals who, in its opinion and from its experience, are holding back climate action in British Columbia. 

Lobbyists, politicians and corporate interests, the Dirty 30 are people the Wilderness Committee believes work to prolong the province's reliance on industries that damage the climate like fracking and old-growth logging. They regularly meet with government officials or otherwise undermine climate action.

"From our research, these are people we believe are working against the planet and our safe future on it," said Climate Campaigner Peter McCartney. "We're trying to shed light on the players steering us to climate disaster to help decision-makers and the public see through the greenwash."

BC's Dirty Thirty includes outgoing Premier John Horgan and his chief of staff, a long list of fossil fuel lobbyists and public servants whose actions often serve industry. Some of their roles also speak to how certain government actors — the courts, regulators or police — uphold the interests of big polluters and stand in the way of action to protect the climate.

"If we're going to meet our commitments and prevent these climate disasters from getting any worse, we cannot let bad faith actors stand in our way," said McCartney. "We cannot afford distractions around unproven technologies that preserve the bottom line of fossil fuel companies over the climate that sustains life on this planet."

The full list is available at BCsDirtyThirty.ca with descriptions of why these individuals landed themselves on there. Incoming premier David Eby should be aware of how polluting interests exert power.

"B.C. should slam the door on fossil fuel lobbyists and clean house within the government so we can get on with the critical work of tackling the climate emergency," said McCartney. "Don't listen to the people and interests most responsible for this crisis."
 
-30-
 
Media contact:

Peter McCartney, Climate Campaigner
778-239-1935, peter@wildernesscommittee.org
Fancy meeting you here at the end of this article! Care to hang out together for a few more sentences?
The campaign you just read about is one of about 20 we're actively working on at any given time. And the person who wrote this article is the same campaigner who's asking you to take action, who's calling on our legislators to make changes and who's in the field to bring you photos, videos and stories documenting this issue.
Did you notice how we're a bit distinct, that we're not afraid to call out the industries or governments that threaten what's wild? Unlike other groups, we're almost 100 per cent* "people powered." Individuals like you who care give what they can, when they can. No corporate or government funding restricts our strategies, our actions or our voice. That's how we stay a lean, nimble and unequivocally relentless voice for wilderness, wildlife and the climate. That's why we'd love it if you'd consider joining us by making a monthly donation to the Wilderness Committee today.
LET'S MAKE A DIFFERENCE TOGETHER
We've already established you like to read to the end, so here's the fine print. It's 96 per cent of our funding which comes from individuals like you and me. About four per cent of our total funding comes from a few grants from foundations. Every gift — no matter the size — has an impact and powers our work for nature.