Indigenous leaders, environmental activists, citizens to protest federal cabinet meeting
Wednesday, August 22, 2018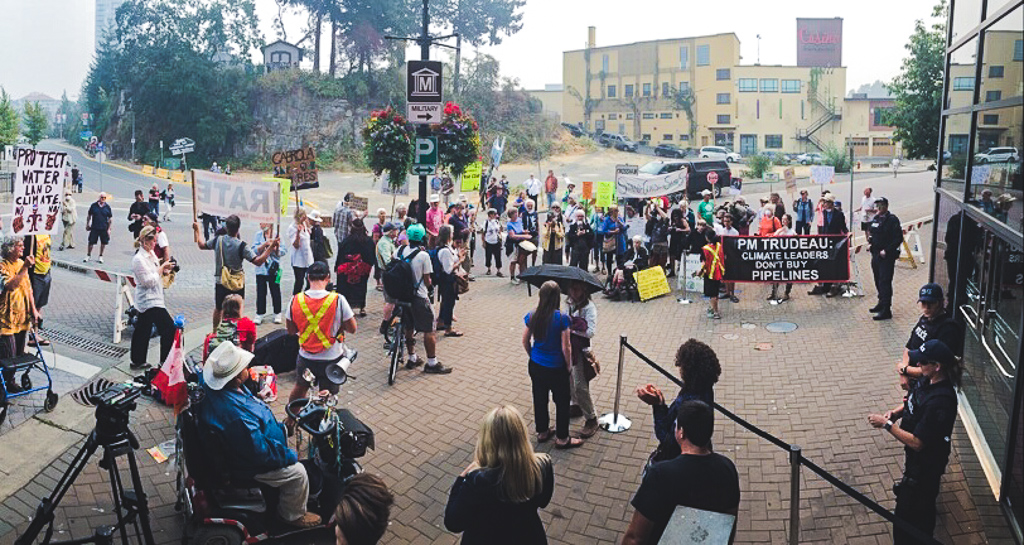 NANAIMO - Hundreds of citizens are expected to take to the streets of Nanaimo today to protest the federal government's pending buyout of the Trans Mountain pipeline. Prime Minister Justin Trudeau has gathered his cabinet ministers in Nanaimo this week for a retreat in advance of the fall session and rally organizers are calling on his government to cancel the controversial pipeline. 
Will George, member of the Tsleil-Waututh Nation and leader of Kwekwecnewtxw (the Watch House) on Burnaby Mountain, will travel to Nanaimo to lead the protest.
"We are coming to Nanaimo to make sure that Prime Minister Trudeau understands that his pipeline will never be built," said George. "Our resistance and resolve have only got stronger since the federal buyout announcement. Trudeau will not get away with forcing a tar sands pipeline through unceded lands."
Today's protest is being organized by the Wilderness Committee, Rise and Resist, Coast Protectors, Protect the Inlet, Stand and Sierra Club BC and will be held at the Vancouver Island Conference Centre from 11:30am-1:30pm. 
The federal cabinet's visit to the west coast comes during a provincial state of emergency and air quality advisories due to the ongoing wildfire crisis. And while scientists are sounding alarm bells over the fate of the southern resident orcas, whose critical habitat the increased tanker traffic connected to the Trans Mountain project would significantly impact.
"With fires raging across British Columbia and beyond, we're getting a preview of what climate change will bring to this part of the world," said Torrance Coste, Vancouver Island campaigner with the Wilderness Committee. "Forcing a tar sands pipeline through now without the consent of Indigenous Nations and local communities is completely unacceptable. The federal government needs to know that this coast won't stand for it."
The protest comes as part of a week of action against Prime Minister Trudeau's pipeline, including blockades at Kinder Morgan's Trans Mountain facilities in Burnaby and protests at Liberal Party fundraisers in Vancouver.
In addition to George, local Nanaimo-Ladysmith Member of Parliament Sheila Malcolmson will attend and speak at the protest.
Anger over Trudeau's disregard for B.C.'s coast runs deep on Vancouver Island, and the prime minister has been met with loud protests on his previous visits to Nanaimo and Victoria this year.
"Because it holds no seats on Vancouver Island, this federal government seem to think it can ignore our concerns around climate change, Indigenous rights and the threat this pipeline and tanker proposal poses," said Coste. "We're crashing the cabinet meeting to show Trudeau and his ministers that our voices can't be ignored and that the Trans Mountain pipeline will never be built."
The organizers recognize this event is being held on the territory of the Snuneymuxw Nation.
–30–
For more information, please contact:
Torrance Coste | Vancouver Island Campaigner, Wilderness Committee
250-516-9900, torrance@wildernesscommittee.org
Will George | Kwekwecnewtxw
604-506-8761
Mark Worthing | Conservation and Climate Campaigner, Sierra Club BC
250-889-3575