Notley's oil-by-rail plan 'very unlikely' to affect B.C.
Friday, November 30, 2018
Vancouver Sun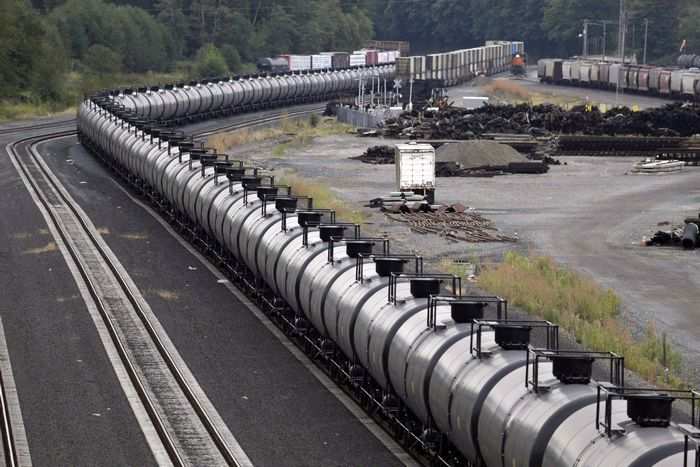 Alberta Premier Rachel Notley's bid to increase the province's crude oil exports by purchasing more rail cars is unlikely to result in more oil-transporting trains on B.C. tracks.
Notley announced in a speech she delivered in Ottawa this week that the province would buy trains to move an extra 120,000 barrels of crude oil by rail starting in 2019, in an attempt to deal with an oil price differential that is hurting producers.
A spokesperson from Notley's office couldn't say how much of the oil would be transported through B.C.
"Although we would anticipate the majority of it going to the Gulf Coast, we would send oil where we'll get the world price for it," said Kate Toogood, in an email.
However, Sven Biggs, a climate campaigner with Stand.earth, said it's his organization's understanding that almost all oil transported by rail in Canada goes to the U.S. Midwest and Gulf Coast, and any cars added by the province of Alberta would head in the same direction.
"It's very unlikely any of that oil would come through British Columbia," he said.
Peter McCartney, a climate campaigner with the Wilderness Committee, said Notley's announcement "seems like more of a public relations push than anything."
According to the National Energy Board, crude-by-rail shipments have been increasing over the past few months and hit a record high in September — nearly 270,000 barrels per day. Specific statistics for how much oil travels through B.C. each month are not available.
McCartney said there was always concern when crude oil was being transported through B.C. communities, and a spill from rail cars in particular can have a devastating impact on local waterways. However, he added, there are risks with both pipelines and rail transportation.
"The idea that we have to make a choice between oil spilling from a rail car or a pipeline is nonsense," McCartney said. "This is not oil that is being provided for B.C. communities, it is 100-per-cent being provided for export."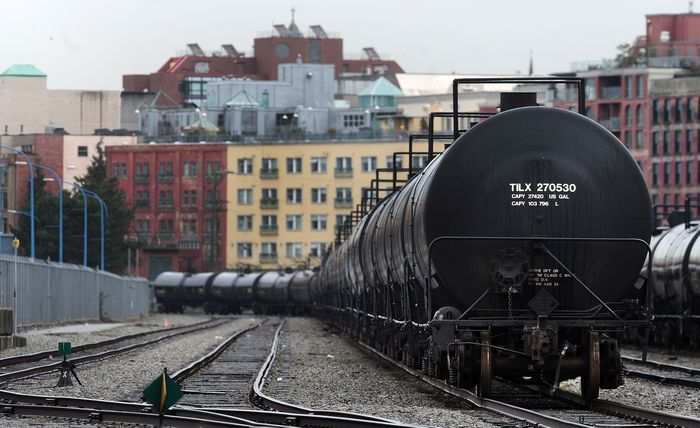 In an emailed statement, B.C. Environment Minister George Heyman said the government was committed to protecting the province from the risks of diluted bitumen, regardless of how it's shipped.
Heyman said the province had introduced new regulations to prevent spill prevention, planning and response, and was developing more. It has also launched a reference case to confirm the B.C. government's authority to control the movement of heavy oils within the province.
"We are taking action to make British Columbians safer in the face of risks of bitumen transport, whether by rail or by pipeline," he said.
The federal government has been non-committal about a request from Alberta to increase rail capacity to accommodate more oil-carrying trains — Finance Minister Bill Morneau said it would take at least nine months to do so — instead saying it would like to see the Trans Mountain pipeline expansion built.
The federal government bought the pipeline for $4.5 billion in the summer, before the Federal Court of Appeal struck down its National Energy Board approval. The court decision cited inadequate Indigenous consultation and failure to consider the impact on the marine environment, including how tanker traffic would affect orcas.
The National Energy Board's reconsideration of the pipeline expansion began with hearings last week in Calgary, and continued this week in Victoria. Next stop is Nanaimo next week. The hearings are meant to consult further with Indigenous people. The board must issue a report no later than Feb. 22.
Natural Resources Minister Amarjeet Sohi said he has also met with Indigenous leaders from 22 affected communities.
— with files from Postmedia