Peace Valley Farmland Defenders Honoured with Wilderness Committee Environmental Award
Saturday, November 23, 2013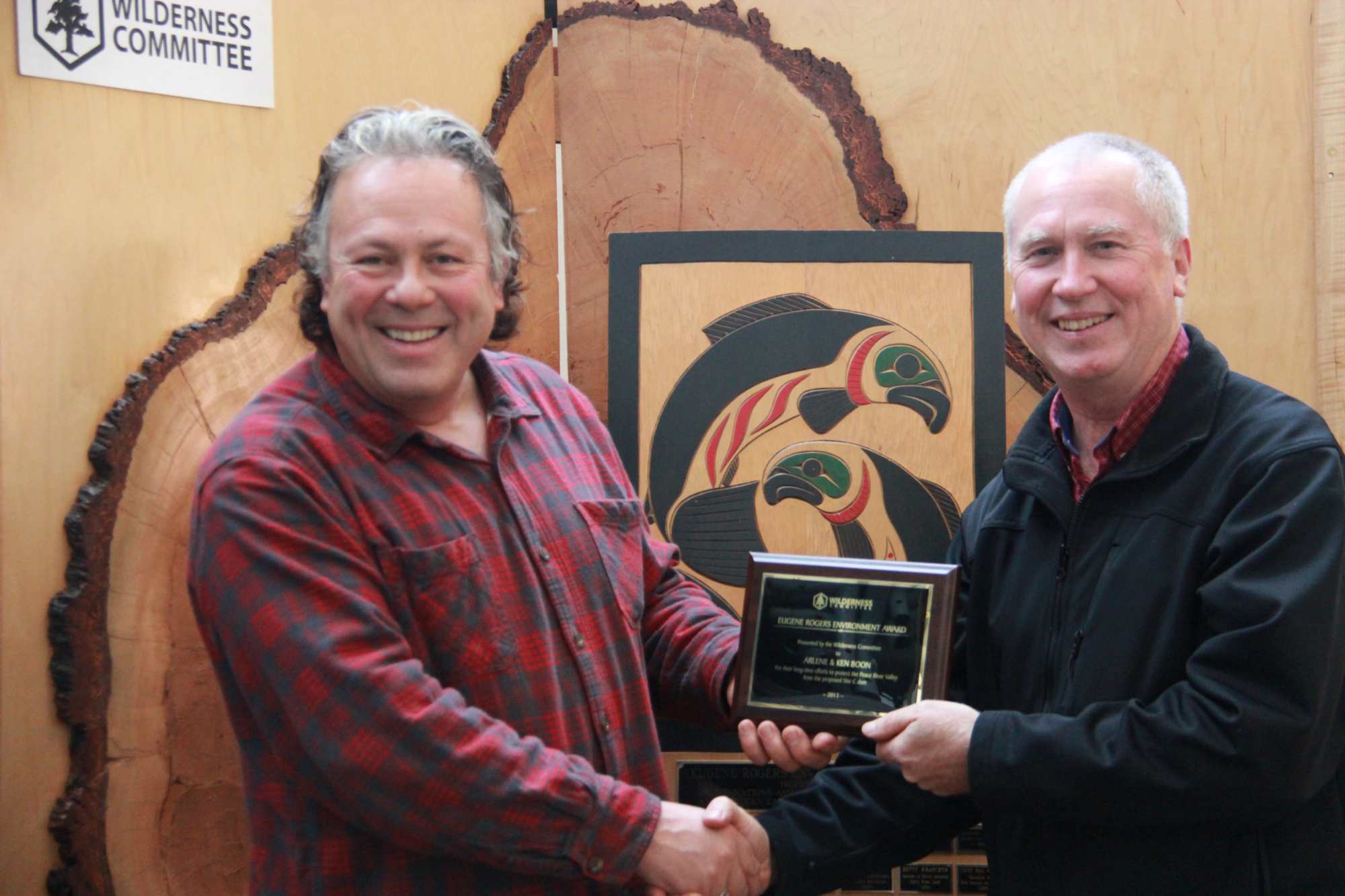 News Release - November 23, 2013
Couple recognized for ongoing efforts to protect region from the proposed Site C Dam
VANCOUVER – The Wilderness Committee is proud to announce BC farmers Ken and Arlene Boon as the winners of the 2013 Eugene Rogers Environment Award, for their long-time dedication to protecting the Peace River Valley from the impacts associated with the proposed Site C Dam.
Since 1992, the Eugene Rogers Award has been presented to individuals recognized by the Wilderness Committee for their outstanding contribution to environmental protection in British Columbia. The award is granted once a year at the Wilderness Committee's Annual General Meeting, along with a $1,000 prize.
Ken and Arlene Boon are the owners of Bear Flats Farm, located on the banks of the Peace River between Fort St. John and Hudson's Hope, BC. For three generations the family has resisted plans to dam the river, which would flood over 100 kilometres of valley-bottom lands – including not only their own farm but thousands of acres of agricultural land, critical wildlife habitat, heritage landmarks and First Nations cultural sites.
"Ken and Arlene are family farmers who have stepped up to become passionate spokespeople for the beauty and abundance of the Peace River Valley, and about the need to protect it by stopping the proposed Site C Dam," said Joe Foy, National Campaign Director at the Wilderness Committee. "The fight to save this amazing valley is given new urgency with the commencement of the joint federal/provincial environmental review of the project, starting on December 9th."
The proposed $8 billion Site C Dam is opposed by many groups and individuals across the province – including the region's First Nations – due to its impact on the surrounding lands, as well as the massive cost associated with this unneeded project.
"We were shocked and greatly honoured to receive this award. We appreciate all the work the Wilderness Committee does for various causes such as fighting the proposed Site C dam, and hope this award can help bring public awareness to this issue," said Ken Boon. "Arlene and I plan to put the cheque to good use in the battle to stop Site C once and for all."
This year's winners join past Eugene Rogers Award recipients such as former Xeni Gwet'in Chief Marilyn Baptiste, wild salmon activist Alexandra Morton, and last year's winner, Rafe Mair (honoured for his outspoken opposition to salmon farms, pipelines and private hydropower).
The Boons were unable to attend today's event, but the award is being accepted on their behalf by writer and director Charles Wilkinson, whose feature documentary Peace Out (2013) looks at the effects of energy mega-projects like Site C on northwest Canada's people and their rapidly changing landscape.
– 30 –
For more information, contact:
Joe Foy, National Campaign Director, Wilderness Committee – (604) 880-2580
Ken and Arlene Boon – (250) 262-3205
Photos available upon request.